Eevee Is Everywhere in the Pokémon Center. As part of Eevee Month, we visit the Pokémon Center to check out some of our favorite Eevee items.
As an adorable Pokémon with multiple unique Evolutions, it's no surprise that Eevee gets plenty of love in the Pokémon Center. To continue our celebration of Eevee Month, we're taking a look at the coolest and quirkiest items that the Pokémon Center has to offer fans of Eevee and its Evolutions.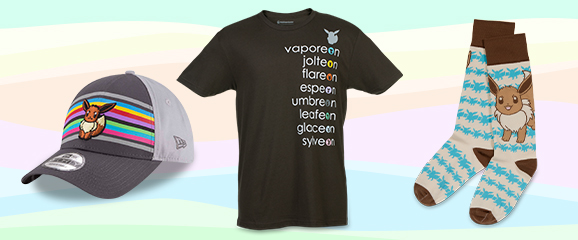 Our first trip is through the clothing section, where Eevee makes a serious splash. The Eevee Spectrum Sleek 9FORTY Baseball Cap, which features an embroidered Eevee set against colorful stripes representing its Evolutions, is a fun way to finish off an outfit. So are the sweet Eevee Socks featuring silhouettes of the Evolution Pokémon in a stylish pattern. And items featuring the entire Eevee family—like the Roll Call gear that lists the names of each of Eevee's Evolutions—are certainly among our favorites.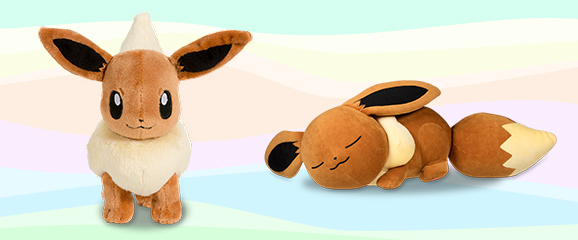 The Pokémon Center is simply loaded with awesome Pokémon plush in all shapes and sizes. As of this article's publication, Eevee is featured in at least five different plush—ranging from small key chain plush all the way up to a Sleeping Eevee Poké Plush that measures nearly 2 feet in length. By the way, one of the most adorable Eevee plush isn't really Eevee at all—with its silly smile, the Ditto As Eevee Plush is spectacularly charming, and it even comes in two different sizes!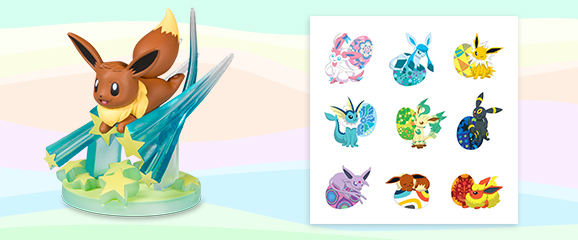 Our last stop in the Pokémon Center features lots of ways to add Eevee style to your home or office. The two Eevee Elements glass tumblers—one featuring Eevee with Vaporeon, Jolteon, and Flareon, and another featuring Eevee with Sylveon—certainly boast retro-inspired charm. Another collectible addition to your bookshelf is the sculpted Pokémon Gallery Figure depicting Eevee in action as it performs its Swift attack. All of the Pokémon Gallery Figures are exquisite, and Eevee is no different. But if you really want to show off your love for Eevee, the Eevee Essences Wall Graphics are a must. The set includes colorful wall decals of Eevee and every one of its Evolutions, so you can turn your whole room into the ultimate Eevee clubhouse!
Of course, Eevee also costars in the big games coming to Nintendo Switch this November. Pokémon: Let's Go, Pikachu! and Pokémon: Let's Go, Eevee! are both available for preorder in the Pokémon Center, including as part of a bundle with the Poké Ball Plus accessory.
So, if you're looking for ways to show off your love for the Evolution Pokémon, we hope our journey through the Pokémon Center will give you plenty of inspiration!
Source: Pokemon.com