New 'Completely Thank-Full' Pikachu Funko Figure at the Pokémon Center. Get your first look at the latest figure from Funko's A Day with Pikachu collection, coming soon to the Pokémon Center.
A cornucopia is a symbol of bounty, typically overflowing with delicious fruits and vegetables. It's a reminder to be thankful for all that you have. Pikachu is thankful, too—thankful for all the food that was inside that horn of plenty! Completely Thank-Full is the latest figure in Funko's continuing A Day with Pikachu collection, and Pikachu has clearly just plowed through a massive feast. The cornucopia is empty…except for Pikachu, who's so tuckered out that it's curled up inside for a nap. Little Pikachu's tummy is so stuffed that it couldn't even finish its dessert—not even that amazing-looking Shaymin cookie!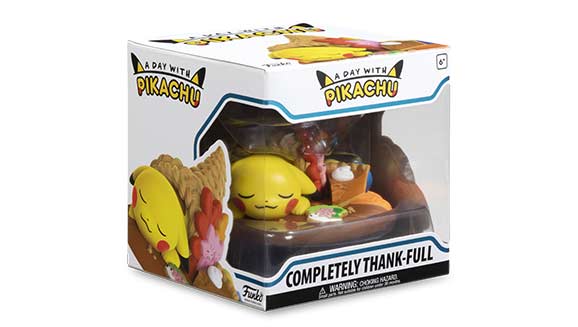 You'll be thankful when you add this adorable figure to your Pokémon collection. It will arrive at the Pokémon Center later this month, so remember to subscribe to the Pokémon Trainer Club newsletter to stay up to date and learn when the Completely Thank-Full figure will be available for purchase.
Source: Pokemon.com