'Ringing In the Fun' Pikachu Figure from Funko at the Pokémon Center. Get your first look at the latest figure from Funko's A Day with Pikachu collection, coming soon to the Pokémon Center.
Pikachu has had a fantastic year, but the little Pokémon is looking forward to all the exciting possibilities that are in store for the New Year! Ringing In the Fun is the latest figure in Funko's A Day with Pikachu series, and it shows Pikachu celebrating at the end of the countdown to midnight. The hands on the Hoothoot clock are at 12, and we can see a used party cracker that has covered the ground with colorful confetti. And is it just us, or does Pikachu's noisemaker look suspiciously like the Ultra Beast Blacephalon?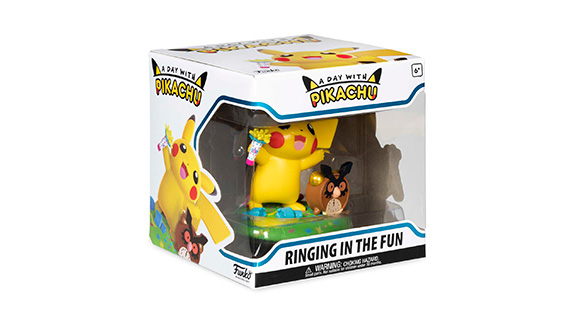 Should old acquaintance be forgot, and never brought to mind? Either way, don't you forget that this figure will arrive at the Pokémon Center later this month. You'll definitely want to add this cheerful Pikachu to your collection, so subscribe to the Pokémon Trainer Club newsletter to stay up to date and learn when the Ringing In the Fun figure will be available for purchase.
Source: Pokemon.com