Pokémon Masters EX, the latest strategy and battling Pokémon game for mobile platforms, is now available for download on the App Store (iOS) and Google Play (Android). In-game events are being hosted on a regular basis, featuring additional Pokémon and recognizable characters from across the Pokémon franchise.
A Message from the Pokémon Masters EX Team (Vol. 26)
A Message from the Pokémon Masters EX Team (Vol. 26)
Greetings, Trainers.
We're the producers of Pokémon Masters EX, Yu Sasaki and Tetsuya Iguchi, here with a new message for you.
Today, we'll focus on details about a new type of story event, as well as what's to come in the next chapter of the Villain Arc.
App Update for Late October
Shop

Update

We made updates to the Shop screen and to the Gems that are available for purchase.

We added new Gem options, as well as Daily, Weekly, and Monthly categories. Each category's offering includes items you can obtain at no cost, so we hope you check them daily, weekly, and monthly to see what's available. Items will be added to the categories starting October 31, 2021.

Also, the items that were available in the Egg Research Items section of the Shop have been integrated into the Purchase Bundles menu. Included in the Purchase Bundles menu are daily bundles, newly added Training Bundles for training each Role, and more.

A Training Bundle is a special set of gems that comes with bonus items for training Sync Pairs, so it's a great choice if you need a head start.

You can check out the separate notification on the updated Shop offerings for more information.
Background Music Changes for
Sync Pair Scout

Screens

We're very glad that players have been enjoying the game's music, and to give you even more chances to enjoy it, we made changes so that music related to featured Sync Pairs will play on some Sync Pair Scout screens. Also, we're planning another feature in a future update that will further expand the use of music in the game. We'll tell you more details about it in an upcoming message, so stay tuned.
Battle Speed Change for Co-op
Taking into account player feedback about events such as gear events, we've increased the default battle speed for co-op battles.
When considering this change, the development team noted that it would bring about an increased need for players to make decisions quickly during battles—and that delays would be more likely to occur depending on the strength of players' network connections. However, in light of things such as the current state of battles, Sync Pairs' training, and the difficulty of co-op battles, we have decided to make this improvement to help alleviate stress caused by slow battle speed.
A new gear event will also begin on November 7, 2021. After playing the event, if you have any feedback on the battle speed change, please contact us via the in-game form.
Costume Event:

Poké War Games

Begins!

As we mentioned in a previous message, a new type of story event—a Costume Event—will start on October 28, 2021. As the name suggests, the Costume Event will feature Sync Pairs wearing special costumes related to the event's story.

This time, four Sync Pairs in special costumes will be appearing. Their costumes will be based on various themes and will be different from seasonal outfits or sygna suits. Of course, Sync Pairs other than the featured four will appear in the event's story as well, so we hope you enjoy it.

This event will run for one month, with updates to the story coming every week.

By using Story Keys, which you can get by playing through the stories that are updated every week, you'll be able to unlock individual event stories that delve deeper into the four Sync Pairs.

We're planning to have more occasional costume events in the future. We hope to have different story themes for each event, so we hope you look forward to them.

Finally, here's a look at one of the special costume Sync Pairs that will appear in the Poké War Games event.
Diantha (Special Costume) & Keldeo

(Resolute Form)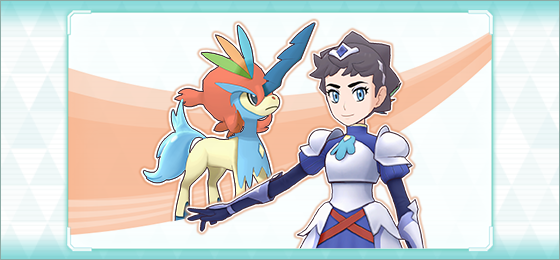 Diantha (Special Costume) & Keldeo (Resolute Form) are a Fighting-type tech Sync Pair. Their Strike True! Move raises their Sp. Atk by four stat ranks, raises their critical-hit rate by three stat ranks, and grants them the Gradual Healing effect. Plus, because they also have a Passive Skill that lowers the opponent's Defense, Sp. Def, and Speed while raising their own Defense, Sp. Def, and Speed by the same amounts when an attack is successful, they can weaken the opponent while powering themselves up at the same time, making them a Sync Pair with both offensive and defensive capabilities. They also have the Move Gauge Boost move, so they can battle while having plenty of Move Gauge to spare.
The Next Chapter of the
Villain Arc
What did you think of the Kanto chapter of the Villain Arc? The next chapter of the Villain Arc is scheduled to be released at the beginning of next year.
The next chapter of the Villain Arc will feature an organization whose boss has a fated connection to a particular Sync Pair. We hope you look forward to finding out which organization it is.
Also, as we mentioned in a previous message, before this chapter is released, part of another story that focuses on a different character (one who is not the boss of a villainous organization) is scheduled to begin in late November.
This character's story will be updated little by little between chapters of the main story's Villain Arc.
In order to play this story, you'll have to complete every chapter of the Villain Arc, so give the Kanto chapter a try if you haven't already.
The 25th of Every Month Is
Pokémon Masters Day!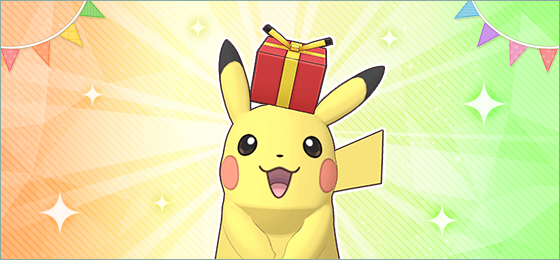 Starting next month, the 25th of every month will be designated as Pokémon Masters Day, in honor of Pikachu's Pokédex number, 25! Please note that this date is based on the 25th of each month at 3:00 p.m. Japan Standard Time (JST), so the exact date may vary depending on your region.
On each Pokémon Masters Day, we'll have a variety of Rallies and other things prepared as a sign of our appreciation for your support. We hope you'll log in to the game on the 25th of every month and enjoy playing Pokémon Masters EX even more.
Please wait for Pokémon Masters Day to get all the details!
Future Updates
Finally, we'd like to share some information about future updates.
Skip Function for the
Battle Villa
A skip function is scheduled to be added to the Battle Villa in late November's update.
After this update, if you complete all Halls of the Battle Villa (excluding co-op), you'll be able to skip to the Hall of your choice during the next Battle Villa challenge.
When skipping, you'll be able to choose how far to go—up to either the fourth, ninth, fourteenth, or nineteenth Hall.
You won't be able to collect bonus rewards for Halls you skip, but you can collect their completion rewards.
Play
Legendary Events

Anytime

Starting with late November's update, you'll be able to play Legendary Events anytime.

Starting with this update, Legendary Events will be added to the Main Story screen.

If you've already completed the events and gotten their rewards, you can exchange the rewards for items such as 5★ Power-Ups, just like you've been able to do with the Legendary Events that have returned previously.
Other Updates
Other updates planned for late November include one that will allow you to see the names of each character's voice actor in the sync pair viewing mode when the game's language is set to Japanese. Also, an item that can help you hatch Eggs more efficiently will be available.
We've also been receiving feedback from some players that while Sync Pairs have been getting stronger, battles have been getting easier, meaning more challenging content is needed.
In response to these requests, we're going to raise the maximum number of points that can be earned in Master Mode in the Champion Stadium and add additional rewards. We're also preparing new, higher-difficulty event content that's separate from the Champion Stadium.
The Master Mode point adjustment is scheduled to come in late November at the earliest, and the higher-difficulty event content is planned to come next year.
In this content, you'll have to win more battles and use more Sync Pairs than in the Champion Stadium. The key to success will be to use as many Sync Pairs as possible—and to use Sync Pairs with a variety of capabilities—so we recommend you train many different Sync Pairs in preparation. Also, the featured rewards for this content will be something that you can only get during this content's release, so we hope you look forward to it.
What to Expect in the Next Message
Our next message is scheduled for late November. In it, we plan to share information about a seasonal event, future updates, and new Sync Pairs that will appear in December.
We're always working hard to deliver updates and improvements that make the world of Pokémon Masters EX as fun as possible.
We prioritize Trainers' feedback throughout the development process, so don't hesitate to let us know what you think.
Until next time, thank you for playing Pokémon Masters EX.
Pokémon Masters EX Producer: Yu Sasaki
Operations Producer: Tetsuya Iguchi
Note: The content mentioned in this message is currently under development. Titles, plans, update content, and update times are all subject to change.
Costume Event: Poké War Games
Let the games begin!
A new type of event has come to Pasio. Which faction will come out on top?
Costume Event: Poké War Games begins October 28 at 11:00 p.m. PDT!
【公式】『ポケモンマスターズ EX』スぺシャルコスイベント「激突! ポケモン合戦!」開始!
アプリゲーム『ポケモンマスターズ EX』で、新イベントであるスペシャルコスイベント「激突! ポケモン合戦!」が開幕!
パシオ全土を舞台にしたポケモン合戦が開催!
グズマ陣営とカルネ陣営に分かれ、隠された「おおきなきんのたま」を奪い合う!
イベントに参加して、勝負の行方をチェックしよう!
【スペシャルコスイベント「激突! ポケモン合戦!」開催期間】
2021年10月29日(金)15:00~2021年12月10日(金)14:59
【カルネピックアップ シーズン限定Bサーチ開催期間】
2021年10月29日(金)15:00~2021年12月10日(金)14:59
【公式サイト】https://pokemonmasters-game.com/
【公式Twitter】https://twitter.com/pokemas_game
【公式YouTube】https://www.youtube.com/c/PokemasJP
#ポケモン #ポケットモンスター #ポケマスEX
Source: Official Pokémon Masters EX site