Several more games have been added to the Nintendo Switch Online collection of NES and Super NES games. Read on below to learn more:
NES & Super NES – July 2022 Game Updates – Nintendo Switch Online
Three additional classic NES and Super NES games are now live for Nintendo Switch Online members!
– Fighter's History
– Kirby's Avalanche
– Daiva Story 6: Imperial of Nirsartia
Learn more: https://www.nintendo.com/switch/onlin…
#NintendoSwitchOnline #NintendoSwitch
Kirby goodies #3: Kirby's Avalanche (and more!) for Nintendo Switch Online members and a new read-along video
Time to put on your puffiest jacket—it's a Kirby-filled day today! Actually…puffy jackets aren't really required, so you can probably forget we said that. Uh, let's just move on from that sentence…
Today, three games are being made available for Nintendo Switch Online members*: Kirby's Avalanche, Fighter's History, and DAIVA STORY 6 IMPERIAL OF NIRSARTIA (a game that has never been released in North America). If you want to know more, check out the handy little blurbs below. After that, if you're in the mood for a large helping of adorableness, please scroll to the bottom for a bonus read-along video.
Super Nintendo Entertainment System™ — Nintendo Switch Online
Kirby's Avalanche
Everyone's favorite round, pink hero takes a break from swallowing his enemies to put your brain to work in this fast-paced puzzle game!
The gameplay revolves around brightly colored blobs and boulders. When the right amount of matching blobs are stacked, they explode and rain down boulders on your opponent's field of play! Keep going until your screen is clear to move on to the next round. But be careful—the farther you advance, the faster the blobs fall, and the smarter the opponents get! Are you good enough to help Kirby become the avalanche king?
Fighter's History
In this one-on-one fighting game, released for the Super NES™ system in 1994, elite fighters from around the world have all gathered for one competition.
When you enter the heat of combat, you'll want to take full advantage of the weak spot each of your rivals has. Striking your opponent's weak spot will deal damage and momentarily stun them. The tide of battle can turn at any moment!
Nintendo Entertainment System™ – Nintendo Switch Online
DAIVA STORY 6 IMPERIAL OF NIRSARTIA
Originally released for the Famicom system in Japan in 1986, this game features three distinct phases of play: the strategic-simulation phase, star-side fleet battles, and action-packed planet-side battles. The goal is to find and control each of the 14 enemy planets scattered across the map—but that's not where it ends. Vlitra, a sort of artificial organism that looks like a massive black dragon, works tirelessly to spread across the stars. To do so, it hopes to convert a new world into a nest for creating more creatures like itself. Once the new Vlitra planet has been completed, the creatures will turn their attention toward your home star system, and then it's game over! Can you stop this from happening?
Secret Password: To jump right into a planet-side battle, enter password たたかう to go to a planet at random.
It's Kirby Time: Read-Along #3: Sweet Dreams, Kirby
And finally, it's time for a bit more Kirby. We've previously shared two read-along videos, so let's keep it going with video #3! Once again, this ultra-cute tale is written by Asami Taniguchi and drawn by HYOGONOSUKE. If this video isn't quite for you, please share it with another person—it might just brighten their day!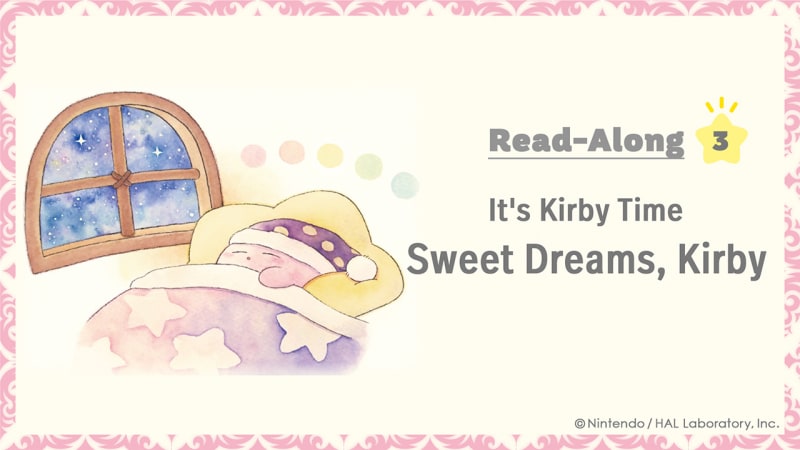 Happy gaming, all.
© 1995 Compile/Banpresto. © 1995 HAL Laboratory, Inc./Nintendo.
©G-MODE Corporation / DATA EAST
©D4Enterprise Co.,Ltd.
*Any Nintendo Switch Online membership (sold separately) and Nintendo Account required. Persistent Internet, compatible smartphone, and Nintendo Account age 13+ required to use app. Data charges may apply. Online features, Save Data Cloud, and Nintendo Switch Online smartphone app features available in compatible games. Not available in all countries. The Nintendo Account User Agreement, including the Purchase and Subscription terms, apply. Learn more at nintendo.com/switch-online
Source: Nintendo.com