The following topics include some of the top Pokémon stories of 2017. Read on below for an official recap of some of the most memorable moments in the Pokémon universe from the past year:
2017 was a huge year for Pokémon, from exciting Pokémon TCG and video game news to epic animation announcements. Check out our list of the top Pokémon moments since the last Pokémon Day.
Pikachu Speaks?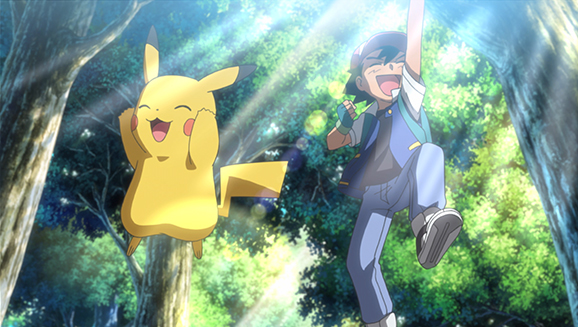 Of all the Pokémon moments in 2017, the sight and sound of Pikachu talking might have been the most shocking to Pokémon fans. During the climax of Pokémon the Movie: I Choose You!, older fans gasped while younger fans fell silent as Ash, hovering on the edge of consciousness after being injured in battle, heard his best friend Pikachu utter human words. With the upcoming launch of the Detective Pikachu game, we'll certainly see a talking Pikachu again—but we'll remember the first time we saw this scene forever.
---
Pokémon Battles on Nintendo Switch!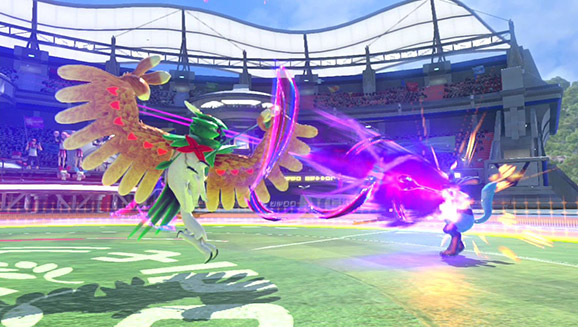 At the big, annual E3 event in June, gamers were pumped for all the fun Nintendo news being revealed, including the first appearance of Pokémon on Nintendo Switch in Pokkén Tournament DX. The latest iteration of the Pokémon fighting game then launched in September, introducing more Pokémon and cool new modes for even more intense action! The hits keep coming, too, with the addition of even more Battle and Support Pokémon via downloadable content, including the versatile Aegislash.
---
A Side Trip to Kanto!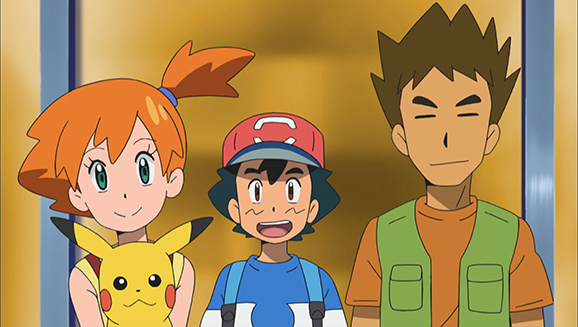 In the 20th season of Pokémon the Series, we saw Ash and friends head out on plenty of awesome adventures in the tropical Alola region. Then, as the season closed, the story took a fascinating (and nostalgic) turn—Ash and Pikachu headed back to Kanto to visit some of their old friends! It was like an old-fashioned family reunion for Pokémon fans, with appearances by Misty, Brock, and other special guests—and of course, plenty of Pokémon battles.
---
Legendary Raid Battles!
Pokémon GO took the world by storm in 2016, with millions of players exploring and catching Pokémon. Going into 2017, a big mystery remained: Where are all the Legendary Pokémon? That question was answered in July with the introduction of Raid Battles, special activities where Trainers can band together to defeat and catch tough Pokémon, including famed Legendary Pokémon. Lugia and the trio of Articuno, Zapdos, and Moltres were the first to appear, and more recently, Trainers have encountered the awesome Kyogre, Groudon, and Rayquaza.
---
A Wild Worlds!
Sunny Anaheim, California, hosted the Pokémon World Championships in 2017. Top-level Trainers converged from all over the globe for a long weekend in August to compete for the coveted title of World Champion in Pokémon TCG, video game, and Pokkén Tournament events. The action did not disappoint, with thousands of fans cheering on their favorite competitors all the way through Sunday, when our new World Champions were crowned. Take a look at our recap of the top competitors from Anaheim, as well as the teams and decks they used. Now we're looking forward to seeing the Worlds action when it comes to Nashville, Tennessee, this August!
---
Magikarp Gets Its Moment
For as long as Pokémon has existed, Magikarp has been something of a punchline—it's not particularly cool or tough, and it's outshined by its awesome Evolution. But something happened last summer, and all of a sudden, Magikarp was the toast of the Pokémon world! It was featured in its own game, Pokémon: Magikarp Jump (where ironically it met terrible fates more often than not). Magikarp also got its own music video where the performers proclaimed their love for the feeble Pokémon. 2017 was weird.
---
Return to Alola
The launch of Pokémon Sun and Pokémon Moon in 2016 marked a different direction for Pokémon video games, with a fresh new look, interesting new trials, and the unveiling of otherworldly Ultra Beasts. But it also left many questions unanswered, including details on those mysterious creatures. Fortunately, the release of Pokémon Ultra Sun and Pokémon Ultra Moon filled in some of the missing pieces and dished out even more Pokémon adventures and battles at every turn. Even Giovanni made an appearance as the head of Team Rainbow Rocket, a new group comprised of some of the toughest villains in Pokémon history.
---
A Legendary Pokémon TCG Expansion
Every Pokémon TCG expansion finds new ways to surprise fans, whether it's with cool new strategies, awesome artwork, or unexpectedly powerful Pokémon. But the Shining Legendsexpansion went beyond everyone's expectations with a dazzling collection including an incredible number of impressive Legendary and Mythical Pokémon. The Shining Legends expansion was also special in that booster packs were available only as part of specific collections. Players and collectors alike made Shining Legends a huge hit in 2017, and it could certainly be considered one of the top expansions in Pokémon TCG history.
---
A Very Special Pikachu
The Pokémon games are frequently home to wild Pikachu—but none like the most famous Pikachu featured in the animation. However, fans got one step closer to catching their own special Pikachu in 2017. Thanks to a limited-time promotion that ran throughout September and October, Pokémon Sunand Pokémon Moon players could receive one of six special Pikachu wearing caps based on the hats Ash has worn during his journeys through various regions in Pokémon the Series. Meanwhile, fans who attended a theatrical screening of Pokémon the Movie: I Choose You! were given a QR code that allowed them to bring a Pikachu wearing a cap like Ash's hat from that film into their copy of Pokémon Ultra Sun or Pokémon Ultra Moon.
---
As you can see, 2017 was an exciting year in the world of Pokémon! Of course, these are just the highlights—you probably have your own favorite moments. Share them with us on Twitter using #PokemonDay. Looking ahead, 2018 promises to be a huge year as well, with all sorts of fun surprises in store. We'll be looking forward to them just as much as you are!
Source: Pokemon.com