Prepare to Scare at the Pokémon Center. Celebrate the Halloween season with a variety of delightfully spooky goods from the Pokémon Center.
Halloween may be full of frights, but it's still a fantastic time to meet up with friends, don spooky costumes, and enjoy way too much candy. And during a Halloween get-together, who wouldn't want to bring along some Pokémon to add to the fun? Luckily, there's a wide variety of seasonal Pokémon items available at the Pokémon Center in multiple fun themes. Let's take a look at some of them.
---
Eerie Delights
The Eerie Delights collection features Pikachu and friends wearing some charming Halloween costumes—do you recognize any of them? Some of the Pokémon are on Team Treat, celebrating the candy-filled side of Halloween. Others are on Team Trick, and they're scaring up great fun!
Plush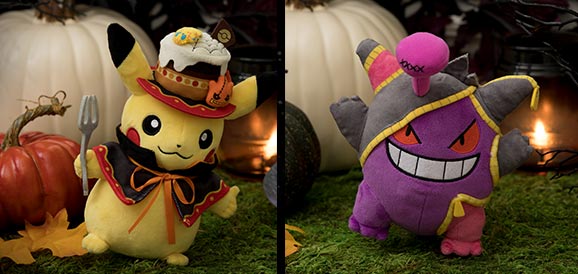 Even Pokémon enjoy dressing up in elaborate costumes during the Halloween season. For proof, look no further than the Eerie Delights collection. Unlike a lot of Halloween costumes, these ones still let you see the wearers' identities, and they certainly give the Pokémon a whimsical look.
Accessories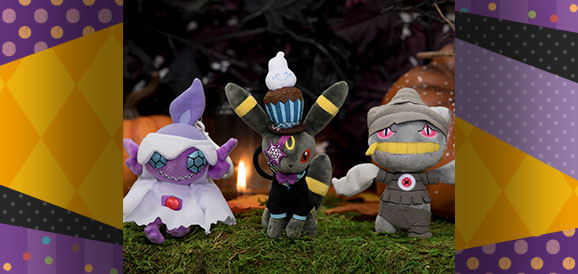 If you're looking to take some costumed Pokémon with you wherever you go, the Eerie Delights collection has you covered. Place a delightful enamel pin on your lapel, or clip a plush key chain to your backpack (or your keys, of course), and you'll always be ready for a Halloween party.
---
Pumpkin Pikachu Halloween
Pikachu is ready for Halloween as it bursts forth from its jack-o'-lantern counterpart amid a cascade of candy. Pikachu clearly prefers treats to tricks in the Pumpkin Pikachu Halloween line.
Keep Warm
The Halloween season is fun, of course, but this time of year also brings chillier weather to a lot of places. Who better to keep you warm than Pikachu? Slide a pair of Pumpkin Pikachu Halloween socks over your feet, curl up underneath the matching fluffy fleece throw, and you're ready to relax in spooky style.
Pokémon TCG Accessories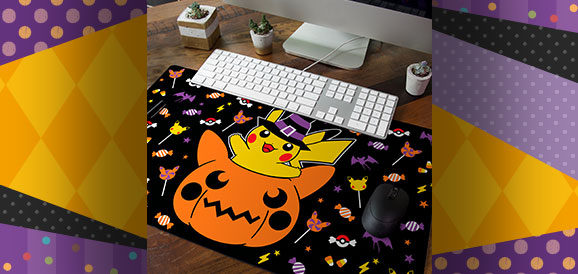 The next time you play the Pokémon Trading Card Game, you can surprise your opponents with your fantastic Pumpkin Pikachu Halloween accessories. With a deck of cards protected by Halloween-themed sleeves and laid out on a matching playmat, you're sure to inspire fear in even the most seasoned players!
---
Lavender Town
Take a trip to one of the spookiest locations within the world of Pokémon! The Kanto region's Lavender Town is home to the famously haunted Pokémon Tower, and it's featured in this creepy collection.
Creepy Clothing
Show the world your devotion to darkness when you step out wearing the latest fashion inspired by Lavender Town's sordid past. A baseball cap and fashionable scarf will make you the envy of all Pokémon fans that like to lurk in the shadows.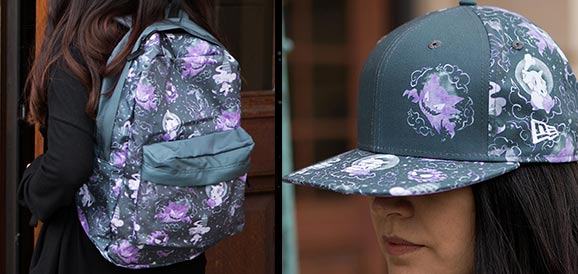 Haunting Accessories
Gastly, Haunter, and Cubone—and Cubone's ghostly Marowak mother—feature prominently on a wide variety of Lavender Town accessories. With a backpack, lunch box, color changing mug, and more to choose from, you can spend your entire day paying homage to the haunting Pokémon that inhabit the tragedy-filled Pokémon Tower.
---
This is just a sampling of the many tricks and treats you can find at the Pokémon Center. Be sure to check out the other wonderful wares there, and have a happy (and safe) Halloween!
Source: Pokemon.com