Eevee and Friends Evolve in the Eevee Pixel Collection! at the Pokémon Center. The new Eevee Pixel Collection! features the beloved Pokémon and its many Evolutions in a wide range of charming merchandise. Catch the whole crew of Eevee and its Evolutions in totally adorable pixel form.
With its ability to evolve into multiple different Pokémon, Eevee is one of the more versatile Pokémon around. Now, the Pokémon Center has a new line of merchandise to commemorate the Evolution Pokémon. The Eevee Pixel Collection! highlights the lovable Eevee and all its evolved forms—Vaporeon, Jolteon, Flareon, Espeon, Umbreon, Leafeon, Glaceon, and Sylveon—with retro gaming-inspired flair.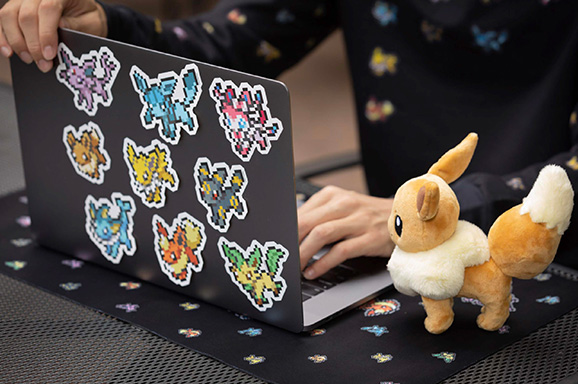 You'll find sprites of Eevee and its Evolutions on all sorts of wonderful items, from stylish T-shirts and sweatshirts to backpacks and patches. Wear your squad around your neck with a lanyard covered with mini pins, or pick up a set of stickers that'll look great on your laptop, binder, or…well, anything you like! The matching Pokémon TCG playmat would be perfect for when you take on your next opponent using an Eevee-themed deck. And don't forget the awesome plush! These blocky friends are big (ranging in size from 16–20 inches) and excellent for cuddling!
Don't miss out on the old-school charm of the Eevee Pixel Collection! Head over to the Pokémon Center to see the entire line!
Source: Pokemon.com