Read on below to learn more about a new Pokémon TCG product:
An Interview with Atsushi Nagashima About Pokémon TCG: Celebrations
The Game Director of the Pokémon Trading Card Game at Creatures Inc. discusses Pokémon TCG history and the significance of this recent expansion.
It's been over 20 years since the first Pokémon TCG cards were released, giving fans an exciting way to play and interact with Pokémon. The Pokémon TCG: Celebrations expansion contains Pokémon, moments, and gameplay mechanics spanning the game's decades-long history. We spoke with Creatures Inc. Game Director Atsushi Nagashima to learn more about the Celebrations expansion.
Mr. Nagashima has been involved with the Pokémon TCG since 2001, working to develop the playing environment through game system and gameplay mechanics. We asked him about the evolution of the Pokémon TCG, key Pokémon, and mechanics in the Celebrations expansion, as well as how this expansion serves as a connection between the game's past and future. This is what he had to say!
With so many years of memorable cards and gameplay mechanics, how did you go about selecting what to feature in the Celebrations expansion?
Mr. Nagashima: We looked back over 25 years of Pokémon history to carefully select characters from all regions of the Pokémon universe. We knew we wanted to create something special for all our fans, whether they are new to Pokémon or are long-standing collectors and players. In addition to popular characters like Pikachu and familiar faces such as Professor Oak, we also selected iconic cards from the history of the Pokémon TCG, such as Base Set Charizard, Umbreon ☆, and Tapu Lele-GX. From Light Pokémon to Delta Species (δ) Pokémon, there are all sorts of cards to discover in the Celebrations expansion. We think players will be very excited.
Do you have a favorite card within the Celebrations expansion? If so, why is it your favorite?
Mr. Nagashima: It's Mew. With the Celebrations expansion, we wanted to create something that not only celebrates Pokémon history, but also connects to the present and future of Pokémon. Mew's illustration was created by Yuu Nishida, who won first place in our first Pokémon TCG Illustration Contest in 2019. Nishida played with Pokémon cards as a little girl. Now, as an adult, she has reconnected with the TCG universe as an illustrator. It's a card that embraces both the history and the promise of Pokémon.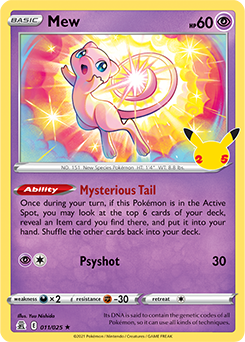 Click image to enlarge
What is the overall goal of the Celebrations expansion within the broader context of the Pokémon TCG?
Mr. Nagashima: The goal of the Celebrations expansion is not only to celebrate the history of Pokémon, but also to connect to Pokémon's present and future.
Celebrations is a chance for long-standing players and collectors to revisit familiar cards and memories, or even to get their hands on special cards they missed in the first edition. Also, it provides a great opportunity for younger fans to encounter the rich history of the Pokémon TCG, to see how it has evolved, and the direction it is taking.
When working on this expansion, which looks back and celebrates the Pokémon TCG's past, what fresh inspiration did you discover for the future of the game?
Mr. Nagashima: The Celebrations expansion includes a range of Pokémon from different regions. While creating the expansion, we revisited many different past cards and spoke with the team members. Together we reflected on what the game environment and tournaments first looked like and how people used to play with the cards. Game logic in the Pokémon TCG has varied, but what does that mean in terms of the cards? Are they fun and exciting? Creating this expansion was an excellent opportunity to take a critical look back at Pokémon history.
The Celebrations expansion revisits historic Pokémon TCG play mechanics. Which of these mechanics is your favorite and why?
Mr. Nagashima: I'd have to say Pokémon-GX. In the heat of the moment, GX Attacks could change the whole flow of the game and really spiced up matches. Although it's a fairly recent mechanism, it really added something new and dramatic. Pokémon cards have a long history, but I think GX Attacks did a lot in terms of evolving the game.
Source: Pokemon.com