Nintendo has announced another Road Trip tour for fans in North America. The official Nintendo Switch Road Trip will kick off soon. Featured games include Nintendo Switch Sports, Mario Strikers: Battle League, and Kirby and the Forgotten Land.
Nintendo Hits the Road This Summer With an Interactive Nintendo Switch Experience for Kids and Families
Nintendo is hitting the road this summer with the Nintendo Switch Road Trip to bring families a fun-filled interactive experience! From June 10 to Sept. 5, Nintendo is making stops across the U.S. and inviting families to enjoy hands-on gameplay with the newest member of the Nintendo Switch family, Nintendo Switch – OLED Model. You'll be able to play demos of some of the latest Nintendo Switch games, including Nintendo Switch™ Sports, Kirby™ and the Forgotten Land and Mario Strikers™: Battle League, which launches on June 10!
In addition to featuring the latest Nintendo Switch games, the vibrantly designed experience will be decked out in colorful Nintendo décor – perfect for shareable photo opportunities on social media! Plus, you'll have the opportunity to receive free Nintendo swag (while supplies last), as well as purchase the Nintendo hardware and software you've enjoyed at the experience via the My Nintendo Store. You know you're on a great road trip when the journey is just as fun as the destination!
Pre-register and swing by the Nintendo Switch Road Trip experience to find out how Nintendo Switch fits into all your enjoyable family moments and makes a terrific companion to your summer. This summer's hottest Nintendo Switch event might just be headed to a city near you!
The Nintendo Switch Road Trip tour is scheduled to make the following stops: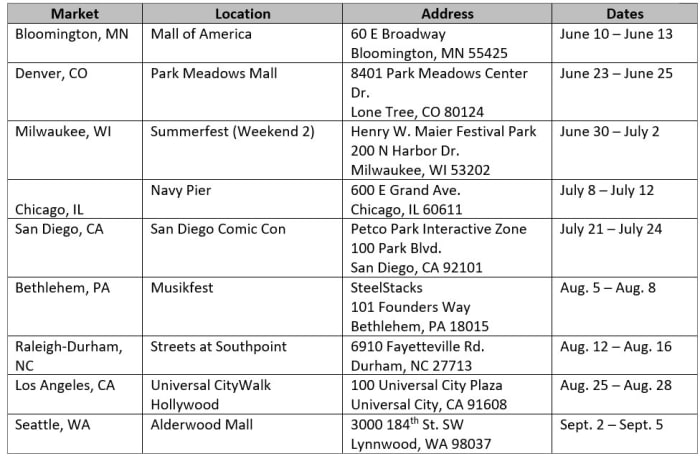 With all the fun in store, event pre-registration is recommended (there may be limited standby availability on the day of the event). To secure your spot, you can register for a Warp Pipe Pass for you and your family at https://experience.nintendo.com/#/events. Registration is available on a rolling basis for each tour stop beginning today and continuing throughout the summer.
Source: Nintendo.com