The Pokémon Center Halloween Collection has officially been revealed. Read on below to learn more:
Pokémon Trading Card Game: Trick or Trade BOOster Bundle, Pokémon Center Halloween Merchandise Available Now, More Seasonal Celebrations Coming Soon
Sept. 2, 2022 — The Pokémon Company International has released the Pokémon Trading Card Game (TCG): Trick or Trade BOOster Bundle, offering parents and kids a fun and creative alternative to candy for trick-or-treaters. Available now at participating grocery stores and mass retailers, the new Trick or Trade BOOster Bundle for the bestselling Pokémon TCG includes mini booster packs that feature ghoulish Pokémon — such as Zubat, Gengar, Pumpkaboo, Mimikyu and Polteageist — and have a Pikachu jack-o'-lantern stamp emblazoned on every card.
The Trick or Trade BOOster Bundle arrives as part of an ongoing Halloween campaign inviting families to explore the spookier side of Pokémon with activations and merchandise across the franchise. In celebration of this release, The Pokémon Company International has launched a new interactive website at Halloween.Pokemon.com, providing Trainers with themed entertainment and products across the Pokémon brand, as well as seasonal activities for fans to include Pokémon in their celebrations.
Pokémon Center Launches 2022 Halloween Merchandise Collection
Pokémon Center, the premier online destination for official, high-quality Pokémon merchandise in the US, Canada and UK, also joins the campaign with a new collection of Halloween products highlighting Ghost- and Dark-type Pokémon, as well as other beloved spooky elements of the brand. The following products are available starting today at PokemonCenter.com in the US, PokemonCenter.ca in Canada and PokemonCenter.co.uk in the UK:
Halloween Plush and Plush Key Chains: Partner up with adorably costumed plush and plush key chains of Pikachu, Gengar, Vulpix, Fennekin, Zorua and more.
Ceramic Gengar Bowl and Pikachu Bowl: Provide a sweet home for Halloween treats, such as the upcoming Pokémon TCG: Trick or Trade BOOster Bundle, with these ceramic bowls. The bowls come in two different designs, one with a spooktacular Pikachu and the other with the shadowy Gengar.
Pikachu & Friends Playmat: Add a spooky aesthetic to Pokémon Trading Card Game (TCG) battles with this black and orange playmat that captures Pikachu, Gengar and other Pokémon enjoying a night of trick-or-treating.
Gengar, Gastly & Haunter Embossed Tin Sign: Warn passersby about mischievous Ghost-type Pokémon at play with decorative signs featuring Gengar, Gastly and Haunter.
Pikachu & Friends Unisex Short-Sleeve Crewneck T-Shirt: Get into the Halloween spirit with a variety of tee patterns that will make any Trainer grin like a Gengar. The short-sleeved printed tee comes in black and navy, and a long-sleeved option focusing on the Shadow Pokémon is available in gray.
Gengar & Spooky Friends Unisex Knit Sweater: Stay warm during chilly nights with this relaxed crewneck sweater. The knitted design highlights Gengar and other ghoulish friends, including Pumpkaboo, Litwick, Sableye and more.
Gengar & Spooky Friends Leggings: Enjoy Halloween in comfort with leggings that come in a black and gray pattern that features Gengar and additional ghastly Pokémon.
Pokémon GO to Celebrate Halloween with Upcoming In-Game Event
The globally popular Pokémon GO mobile game will host its annual in-game Halloween event toward the end of October 2022. Trainers can stay tuned to PokemonGOLive.com for more details on Halloween-themed content in the future.
Additional Halloween Activities for Pokémon Animation, Pokémon UNITE and More Coming Soon
Trainers can look forward to additional Halloween-inspired content across the Pokémon franchise, with more details to be shared in the coming weeks. Spooktacular episodes of the Pokémon animated series will be featured on the Pokémon TV app on mobile devices, the Nintendo SwitchTM system and Pokemon.com in October 2022. In addition, Pokémon UNITE will offer an in-game Halloween-themed event starting on October 26 (PDT)/October 27 (JST).
Trainers can keep an eye on Halloween.Pokemon.com for more information and can join the conversation online using #PokemonHalloween.
Be the Ghost with the Most with the Pokémon Center's Halloween 2022 Collection
Take a walk on the dark side with Halloween-themed treats.
Trick or treat yourself to everything you need for a spooktacular Halloween with the Pokémon Center's Halloween 2022 collection! Bring home fa-boo-lous apparel and gourd-geous decor featuring your favorite Ghost types and Pokémon like Pikachu that are embracing their spooky sides for the most macabre of holidays. Whether your Halloween tastes run to the cute and kitschy or the haunting and harrowing, there's something for every Pokémon fan.
Here's a taste of the terrifyingly terrific treats the Pokémon Center is serving up this Halloween.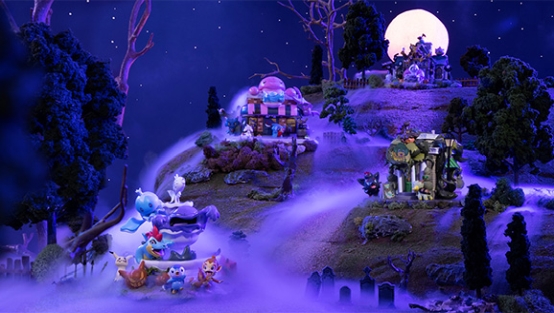 Click image to enlarge
If you've got it, haunt it! The Haunted Pokémon Village has definitely got it, taking spooky style to the next level. Make a splash in your decor with the Frillish Frightening Fountain. Then lap up some Halloween ambiance while displaying Lickitung's Tasty Treats. Scary stories abound when the Oranguru Ancient Archives and the Pansage Creeping Vines Tea Shop haunt your space.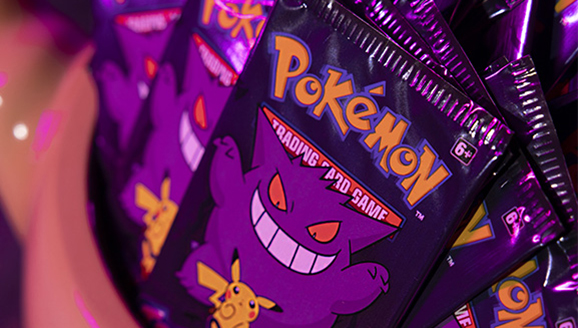 Be a neighborhood hero with Pokémon TCG: Trick or Trade BOOster packs. Merging the thrills and chills of Halloween with charming Pokémon TCG artwork, these three-card packs are a treat to be remembered. Marked with a distinctive Pikachu pumpkin symbol, they will haunt a special place in the hearts of fans of Pokémon and Halloween alike. (Coming September 6)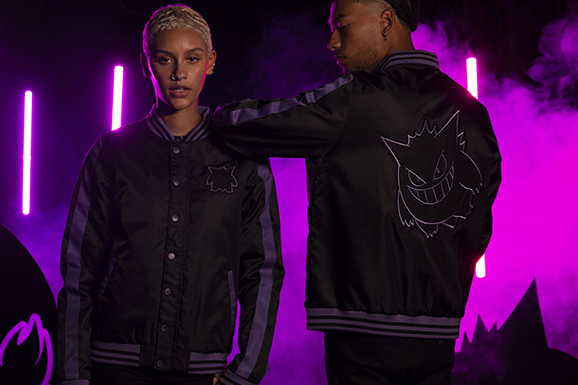 When it comes to haunting with style, Gengar reigns supreme. Channel the Shadow Pokémon's mischievous spirit with distinctive apparel from Pokémon Center. Thanks to a jacket, sweater, hat, watch, plush backpack, and multiple shirts featuring the iconic Ghost- and Poison-type Pokémon, there are plenty of opportunities to rep Gengar during the spookiest of seasons.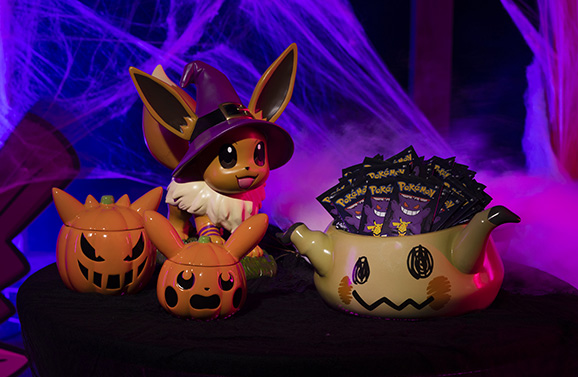 Tricks are great, but treats are an equally important part of the Halloween experience. Serve up yours in style with Pokémon Center's candy bowls. Mimikyu menaces as only the Disguise Pokémon can, daring trick-or-treaters to claim a Pokémon TCG: Trick or Trade BOOster pack from its bowl. Pikachu's gone pumpkin in an adorable candy bowl crossover that will delight Halloween fans of all ages. And Gengar's sinister smile is wider than ever on this candy bowl that will fit enough goodies for the entire neighborhood.
Head over to the Pokémon Center today for a howlingly good time!
🎃 Beware, Pokémon Fans! 👀
Halloween Arrives at Pokémon Center
Halloween Is Here!
Prepare to be petrified, Pokémon fans! Gengar just dropped a selection of spooky new items at Pokémon Center!
Creepy or Cuddly?
The Pokémon Spooky Festival is here, and these Pikachu and Calyrex plush are decked out in their Halloween best. They're joined by a selection of festive plush key chain Pokémon.
Spine-Chilling Styles
You'll look frightfully fashionable sporting these outrageous outfits. Dress to impress or to look like your favorite Pokémon!
Dreadfully Delightful Décor
Make your home look its most haunted with a collection of ghoulish decorations, including metal signs, ceramic treat bowls, and Pokémon-themed jack‑o'‑lanterns.
Eerie Edifices
Create your own Haunted Pokémon Village with this collection of intricately detailed shops. They make a frightfully fine display.
Tick…Tick…Tick…
Last Chance to Shop for Spooky Season 🎃
A Gaggle of Gengar
Going Gengar
There are still plenty of spooky treats awaiting at Pokémon Center.
Show Off Your Charm
Look ghoul with the Gengar pendant necklace or show your team spirit with new Pokémon GO-themed jewelry from RockLove!
A Ghostly Gift with Purchase!
Get a Halloween Treat Bag before they disappear! One bag with every purchase, while supplies last.
Source: The Pokémon Company International and Pokemon.com