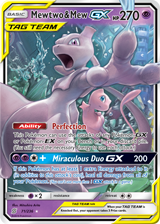 To stay on top, your team must work as one! In the Pokémon TCG: Sun & Moon—Unified Minds expansion, TAG TEAM Pokémon-GXbattle in flawless harmony, including Mewtwo & Mew-GX, Rowlet & Alolan Exeggutor-GX, Espeon & Deoxys-GX, Garchomp & Giratina-GX, Umbreon & Darkrai-GX, and more! True teammates take aim at a single goal—find your perfect partners in the Sun & Moon—Unified Minds expansion!
Over 230 cards
8 brand-new TAG TEAM Pokémon-GX
9 more Pokémon-GX
More than 25 Trainer cards and 2 new Special Energy cards
The complete Sun & Moon—Unified Mindsexpansion will be available to play in the Pokémon TCG Online when the expansion launches.
Source: Pokemon.com