Pokémon Masters, the latest strategy and battling Pokémon game for mobile platforms, has arrived! The free-to-start game is now available for download on the App Store (iOS) and Google Play (Android).
Fantina Spotlight Scout
Date/Time 3/18/2020 at 11:00 p.m. – 4/1/2020 at 10:59 p.m. Increased chance to scout newly released Fantina & Mismagius!
Limited-time Spotlight Scout now under way! Featuring 5★ Fantina & Mismagius! Featured sync pairs have a higher chance of appearing than non-featured 5★ sync pairs.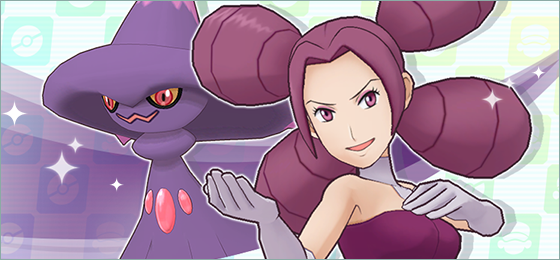 About Fantina & Mismagius
This Ghost-type Gym Leader from
Sinnoh astonishes her opponents with
endless special attacks!
Date/Time
3/18/2020 at 11:00 p.m. – 4/1/2020 at 10:59 p.m.
Important
The 5★ sync pair(s) below do not appear in this sync pair scout.

– Sabrina & Alakazam

The

sync pairs

featured in this

sync pair scout

may also appear in future

sync pair scouts

.
Sync pairs other than the ones mentioned above may appear.
Please note that you cannot have 2 or more

sync pairs

that include Trainers with the same name in your team.

Example: Brock & Onix and Sygna Suit Brock & Tyranitar

The time period and featured content are subject to change without notice.
To check the available sync pairs and their respective offering rates, go to the Offering Rate section on the Sync Pair Scout screen.
Please read the Notes section under Offering Rate on the Sync Pair Scout screen before using the feature.
We hope you continue to enjoy Pokémon Masters.
Source: Official Pokémon Masters site