DeNA is continuing to add more events and new features to Pokémon Masters EX on a regular basis. Read on below to learn more:
A Message from the Pokémon Masters EX Team (Vol. 14)
Greetings, Trainers.
We're the producers of Pokémon Masters EX, Yu Sasaki and Tetsuya Iguchi, here with a new message for you.
Today, we'll discuss the latest event news, updates planned for December, and the results of the 6★ EX Sync Pair Poll Rally that was held recently.
Latest Events
Story Event

: Dazzling Dizzying Battle Stage

The Dazzling Dizzying Battle Stage story event begins today.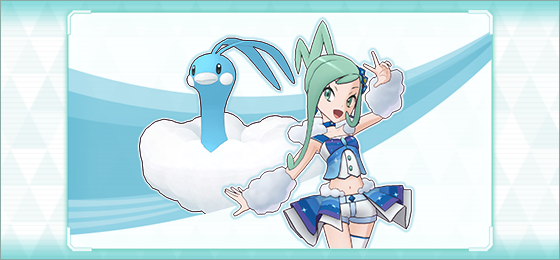 Lisia & Altaria are available in the sync pair scout that runs alongside the event. They also appear in the event itself, so be sure to check them out.
Returning
Legendary Event

: The Dragon That Rules the Sky

The Dragon That Rules the Sky legendary event, which first ran in late January and early February of this year, will return on October 31, 2020.

Zinnia & Rayquaza, which can be added to your team in this event, will have Lv. 125 unlocked, so even if you already played this event during its first run earlier this year, we hope you give it another go.
Time Trial Event
A new type of event, the time trial event, will debut in mid-November.
In battles in this event, you'll be assigned a grade based on your completion time. The higher your grade, the more points you'll get.
Based on your points, you'll be able to earn rewards such as 5★-Guaranteed Scout Tickets, Move Candy Coins, ★ Power-Up Tickets, and more. We hope you all build your teams to get the fastest time possible as you enjoy this event.
Prestige Event
Another new type of event, the prestige event, is coming in late November.
In this event, you'll be placed on a leaderboard based on how many points you earn from battles. The higher you're placed, the better rewards you can receive.
The number of points you earn from battles changes based on factors such as how much damage you took during battle or the highest amount of damage you dealt. We hope you have fun building teams for this event!
In addition to these rewards, there will also be rewards to unlock during the event by reaching preset point tiers.
Even if you just recently started playing Pokémon Masters EX, there will be chances for you to get rewards, so we hope everyone gives this event a try.
December Updates
Theme Skills
We are planning to launch a new Theme Skills feature.
With this feature, you'll be able to strengthen your team using sync pair combinations that are different from the ones required for type skills.
For example, you can build a team using sync pairs made up of Lillie and her family—or using sync pairs that are all from the same region. Possible team themes include sync pairs based on Pallet Town, villainous organizations, and "complicated families."
We're aiming to make this a feature that allows you to build your ideal team in your own way.
This feature will place importance on sync pairs' relationships with each other and have skills activate based on team themes, so we hope theme skills give you a chance to explore sync pairs' relationships on a deeper level.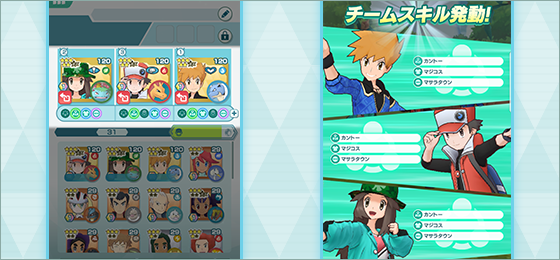 The
Champion Stadium

Update

To make the Champion Stadium even more enjoyable, we're planning to add a challenging new mode in December.

For those who want something harder than Hard battles and want to play the Champion Stadium even more, this will give you a new goal.

This challenge will be quite difficult, but it will offer rewards like 5★-Guaranteed Scout Tickets, so try it if you're confident in your abilities.

At the same time, a new region will come to the Champion Stadium, so we hope you enjoy it.
Results of the
6★ EX

Sync Pair

Poll Rally

We'd like to thank everyone for voting in the 6★ EX Sync Pair Poll Rally that was held in September.

Here are the results of the rally.

Results
#

Skyla

EX: 25.03%
#

Barry

EX: 8.36%
#

Korrina

EX: 8.22%
#

Hau

EX: 8.07%
#

Cheren

EX: 5.28%
#

Calem

EX: 4.94%
#

Nanu

EX: 4.62%
#

Iris

EX: 4.18%
#

Valerie

EX: 4.04%
#

Acerola

EX: 4.01%
#

Misty

EX: 3.43%
#

Clair

EX: 2.79%
#

Flannery

EX: 2.67%
#

Pryce

EX: 2.67%
#

Flint

EX: 2.38%
#

Erika

EX: 1.80%
#

Koga

EX: 1.80%
#

SygnaSuitBrock

EX: 1.77%
#

Viola

EX: 1.45%
#

Norman

EX: 1.39%
#

Brock

EX: 0.75%
#

Hapu

EX: 0.35%
Sync Pairs That Will Have 6★ EX Unlocked
Based on these results, the following three sync pairs will have 6★ EX unlocked.
Skyla

&

Swanna

Barry

&

Piplup

Korrina

&

Lucario
Also, we received more votes than we expected.
To show our appreciation for your participation, we are considering holding a rally during which you can receive Custom ★ Power-Ups for the winning sync pair, Skyla & Swanna.
Further details will be announced at a later date.
Stamina

Adjustments

Thanks to everyone for sending their thoughts regarding the stamina feature.

Based on the feedback we received, we are considering making adjustments and improvements to the balance of the game to make it even easier for everyone to enjoy.

We'll provide more details once our plans are decided.
What to Expect in the Next Message
Our next message is scheduled for late December.
In it, we hope to share information about events that will take place during the New Year's holiday season, as well as updates heading into the one-and-a-half year mark since the game's launch.
Finally, several powerful sync pairs that have been popular in the Pokémon series will be appearing throughout November and December, so stay tuned.
We're always working hard to deliver updates and improvements that make the world of Pokémon Masters EX as fun as possible.
We prioritize Trainers' feedback throughout the development process, so don't hesitate to let us know what you think.
Until next time, thank you for playing Pokémon Masters EX.
Pokémon Masters EX Producer: Yu Sasaki
Operations Producer: Tetsuya Iguchi
Source: Official Pokémon Masters EX site