The Pokémon Company International recently kicked off a new YouTube series called Pokémon Bus tour, which invites fans to learn all about the world of Pokémon Sword and Shield. Read on below to learn more:
Pokémon Bus Tour Ep. 5: Birdkeeper Toby tours the Crown Tundra!
The Pokémon Bus reaches its final stop: Scotland—the inspiration behind the Crown Tundra from the Pokémon Sword Expansion Pass and Pokémon Shield Expansion Pass!
This week, Birdkeeper Toby hops on the bus to teach Sam and Mark their final lessons with a tour of the Crown Tundra as well as the previously released Isle of Armor!
Also featured is even more Pokémon TCG action as the lads compete in one last battle of the booster pulls! Let us know in the comments who you think ended up with the best card collection across the series.
Pokémon Bus Tour: DanTDM teaches newbies how to play Pokémon! (Episode 1)
Video: Pokémon Bus Tour episode 2 features camping, curry and trading cards with Clare Siobhán
Video: Ali-A helps Sam & Mark get their Galar region look together before heading out for their first Max Raid Battle in episode 3 of the Pokémon Bus Tour
Video: Elle Osili-Wood joins Sam & Mark in episode 4 of the Pokémon Bus Tour for Pokémon Sword and Shield
Take a Road Trip with Pokémon Bus Tour: Explore Galar on YouTube
A new five-part series debuts on Pokémon's YouTube channel exploring the UK regions that inspired the Galar region from Pokémon Sword and Pokémon Shield.
Have you ever been playing a video game only to find yourself wishing you could visit the locations that inspired your favorite places from the game? That's what UK television hosts Sam Nixon and Mark Rhodes get to do in the upcoming Pokémon Bus Tour: Explore Galar series. You'll be able to join them as they travel in style on a Pokémon-themed double-decker bus on the official Pokémon YouTube channel. They'll be joined by several special guests along the way as they travel throughout the United Kingdom.
Over the course of their five-episode journey, Sam and Mark visit the sites that helped provide inspiration for the various cities and landscapes in Pokémon Sword and Pokémon Shield, from the villages of Postwick and Wedgehurst to the Wild Area teeming with powerful and diverse species of Pokémon. They'll cross the UK in a vehicle designed to resemble a Poké Ball—one floor of the bus is video game themed, and the second has a Pokémon Trading Card Game motif.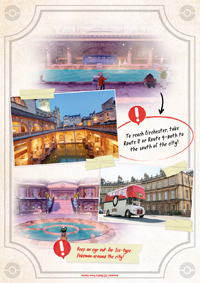 Learn all about the tour locations and the game locations they inspired from our travel brochure. Filled with photos and artistic renditions, the brochure is an excellent supplement as our hosts navigate around the UK. You can download the brochure in the description under each video episode.
As Sam and Mark explore each new location, they'll meet a Pokémon fan who will help teach them a new facet of gameplay in the Pokémon Sword and Pokémon Shield video games or the Pokémon Trading Card Game. Look forward to meetups with fans including DanTDM, Ali A, Clare Siobhan, Bird Keeper Toby, and Elle Osili-Wood along the way.
Source: Pokemon.com