Discover Haunting New Pokémon Wares. See shadows revealed at the Pokémon Center as you investigate the mysterious new Lavender Town collection.
Get ready to feel a chill run up your spine when you check out the new Lavender Town collection at the Pokémon Center. Pokémon fans know that when you're exploring the Kanto region, Lavender Town is the place to visit when you're in a spooky mood. Home of the Pokémon Tower, a large building that contains the graves of departed Pokémon, there's just something uniquely creepy about this haunted destination.
This Lavender Town line features a wide range of merchandise that's perfect for when you want to step out of the sunlight and into the shadows. The designs prominently feature the Pokémon Tower as well as the Silph Scope, a convenient item that's used to identify ghosts.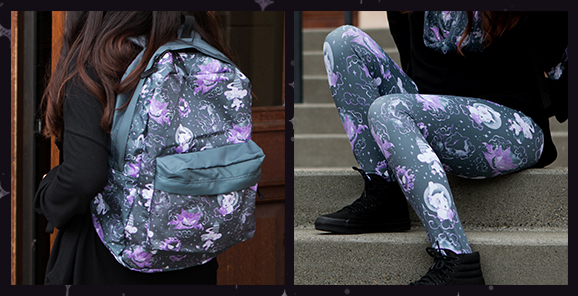 You'll see Pokémon that frequently show up in the Pokémon Tower, including the Ghost- and Poison-type Pokémon Gastly and Haunter. There's also a ghostly Marowak, who Pokémon Trainers may remember as the spirit who haunted Pokémon Tower after sacrificing herself to protect her child, an adorable Cubone.
Pokémon Center's collection of Lavender Town apparel—including a sweatshirt, scarf, leggings, and New Era cap—lets you outfit yourself in chilling flair, and the Lavender Town Laptop Sleeve is perfect for carrying around your favorite electronic device filled with grim poetry and scary stories. Just try not to be startled by the shifting designs on the Lavender Town Color Changing Mug—you wouldn't want to spill your drink!
There's even more great merchandise to discover in this collection, so take a step into the dark and head over to the Pokémon Center to see the Lavender Town line today. Happy hauntings, Trainers!
Source: Pokemon.com