Two brand-new Pokémon themes are now available for purchase on Nintendo 3DS in Japan. The Riding Lapras and Team Rainbow Rocket Boss Pikachu themes can be yours for 200 yen each via the Japanese Theme Shop.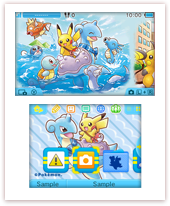 Riding Lapras depicts Pikachu riding on top of Lapras with the Surfing music from Pokémon Omega Ruby and Alpha Sapphire playing in the background.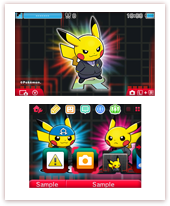 Team Rainbow Rocket Boss Pikachu depicts Pikachu disguised as all the core leaders of Team Rainbow Rocket. Giovanni Pikachu is displayed on the top screen while Pikachu dressed as Ghetsis, Archie, Maxie, Lysandre, Cyrus and Guzma are shown on the bottom screen. This theme features Giovanni's theme from Pokémon Ultra Sun and Ultra Moon.
Source: Nintendo.co.jp