Pokémon Masters, the latest strategy and battling Pokémon game for mobile platforms, is now available for download on the App Store (iOS) and Google Play (Android). In-game events are being hosted on a regular basis, featuring additional Pokémon and recognizable characters from across the Pokémon franchise.
Plumeria and Lucy Spotlight Scout
Date/Time
July 9, 2020 at 11:00 p.m. – July 23, 2020 at 10:59 p.m.
Increased chance to scout Plumeria and Lucy! Plumeria and Lucy Spotlight Scout under way!
Featuring 5★ Plumeria & Salazzle and 4★ Lucy & Seviper!
Featured sync pairs have higher offering rates than non-featured 5★ and 4★ sync pairs.
In this sync pair scout, you can use the daily discount for only 100 paid gems per scout up to 3 times per day.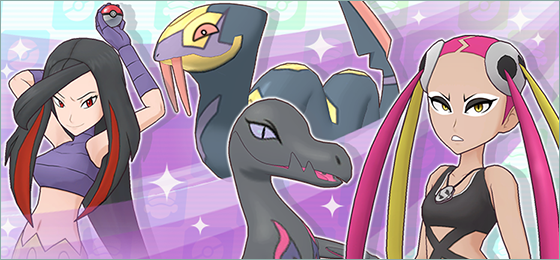 About
Plumeria

&

Salazzle

This Special Strike sync pair
unleashes a poisonous Sludge Wave
that drenches all opponents at once!
About
Lucy

&

Seviper

This Poison-type tech sync pair
disrupts opponents to gain an edge!
Date/Time
July 9, 2020 at 11:00 p.m. – July 23, 2020 at 10:59 p.m.
Important
The

sync pairs

featured in this

sync pair scout

may also appear in future

sync pair scouts

.
Sync pairs other than the ones mentioned above may appear.
Please note that you cannot have two or more

sync pairs

that include Trainers with the same name in your team.
The number of times the daily discount (100

paid gems

per scout) can be used is reset each day.Reset Time: 11:00 p.m.
The time period and featured content are subject to change without notice.
To check the available sync pairs and their respective offering rates, go to the Offering Rate section on the Sync Pair Scout screen.
Please read the Notes section under Offering Rate on the Sync Pair Scout screen before using the feature.
We hope you continue to enjoy Pokémon Masters.
Source: Official Pokémon Mastesr site