Pokémon Masters, the latest strategy and battling Pokémon game for mobile platforms, is now available for download on the App Store (iOS) and Google Play (Android). In-game events are being hosted on a regular basis, featuring additional Pokémon and recognizable characters from across the Pokémon franchise.
Poison-Type Training Event
Date/Time
July 9, 2020 at 11:00 p.m. – July 23, 2020 at 10:59 p.m.
Poison-Type Training Event under way! You can strengthen your Poison types! You can check out the Poison-Type Training Event during the time period below.
You can collect Poison Vouchers and exchange them for Move Candies in the Exchange Items menu to strengthen your sync moves during this event!
Also, the sync grids of 4★ Koga & Crobat will be expanded in conjunction with this event.
You can also take on Ultra Hard difficulty battles once per day.
You can complete this battle to get the Poison Super Voucher, which can be exchanged for even more amazing items.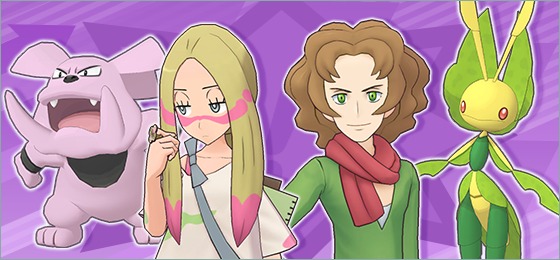 Event Details
You can strengthen Poison-type sync pairs with ease during this event since opposing sync pairs will all be weak to Poison-type attacks.
You can prepare your favorite Poison-type sync pairs and take them on!
Event Missions
You can take on special missions during the event period.
Check the Missions screen to learn more!
Date/Time
July 9, 2020 at 11:00 p.m. – July 23, 2020 at 10:59 p.m.
Important
To participate, you must have completed

Main Story

Chapter 1

:

The More the Merrier

(Normal)

in single-player.
The

sync pairs

that appear as opponents in battle have different capabilities than those you can actually obtain.
To unlock the

sync grid

, you must have completed

Main Story

Chapter 11

:

Alola's Rising Stars: Part 2

(Normal)

in single-player.
When the exchange period for the

vouchers

obtained in this event ends, leftover vouchers will be converted into coins (10

coins

per voucher) and sent to your

Present Box.

All mission completion rewards must be claimed within three days of the mission period ending.
The time period and featured content are subject to change without notice.
We hope you continue to enjoy Pokémon Masters.
Source: Official Pokémon Mastesr site