DeNA is continuing to add more events and new features to Pokémon Masters EX on a regular basis. Read on below to learn more:
Costume Event

 

Curious Tea Party

Is Here!

Costume Event Curious Tea Party will begin on March 30, 2022.
The theme of this event will be solving riddles, and four Sync Pairs wearing special costumes connected to the event's story will debut!

You'll be able to solve riddles as you play, so we hope you look forward to this event. Here's a look at one of the special costume Sync Pairs that will appear.
Lillie (Special Costume) & Polteageist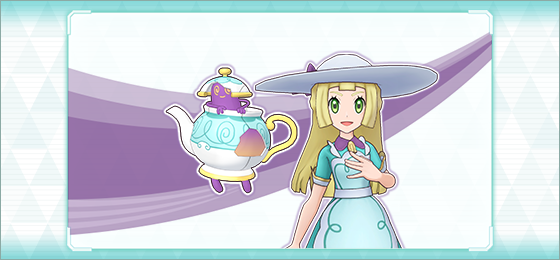 Lillie (Special Costume) & Polteageist are a Ghost-type support Sync Pair.
Their It's Teatime! Move raises the Sp. Atk of all allies by two stat ranks and applies the Gradual Healing effect to all allies. It also activates one of several additional effects at random, making it a unique Move.
There are also field effects that have a rare chance of activating, so give it a try!
They can also use their X Sp. Def All Move to raise the Sp. Def of all allies by two stat ranks and restore HP with their Potion Move or Passive Skill, making them a Sync Pair that can support allies both offensively and defensively.
Special Riddle-Solving Missions!
To go with the theme of this Costume Event, a Riddle Event that includes special riddle-solving missions will begin on April 6, 2022!
Unlike normal Missions, riddle-solving missions are mysterious Missions that do not give you specific requirements to complete.
There will be 20 riddle-solving missions in total, with one being added daily until April 25, 2022.
We've prepared a variety of riddles, so try working with other players as you solve them!
Please note that the Missions will be available until May 3, 2022.
Also, if you solve all of the riddles, you can get a Medal, a total of 6,000 Gems, and 5★-Guaranteed Scout Ticket ×60, so try to complete the Missions to get amazing rewards!
Costume Event: Curious Tea Party
Enter the peculiar world of puzzles and riddles! Can you and Lillie successfully solve them all and join the tea party? 🔎
Costume Event

Curious Tea Party

Is Coming!

Source: Official Pokémon Masters EX site