New holidays-themed products have been revealed by The Pokémon Company for the official Pokémon Center. Read on below to learn more:
Happy Holidays from the Pokémon Center
The Pokémon Center's expansive lineup of gifts, apparel, decor, and more are worthy of Best in Snow.
It may be the most wonderful time of the year, but merrymaking, holiday hosting, and gift giving can be a lot of work. The Pokémon Center's got your back with everything you need for a holly jolly holiday season. From holiday greeting cards to accessories to keep you toasty and warm while caroling out in the cold, here are some of the Pokémon Center's hottest holiday items of 2022. Trainers will also be gifted a Pokémon Winter Wonders Flat Brass Ornament with any Pokémon Center purchase while supplies last.
Celebrate with Psyduck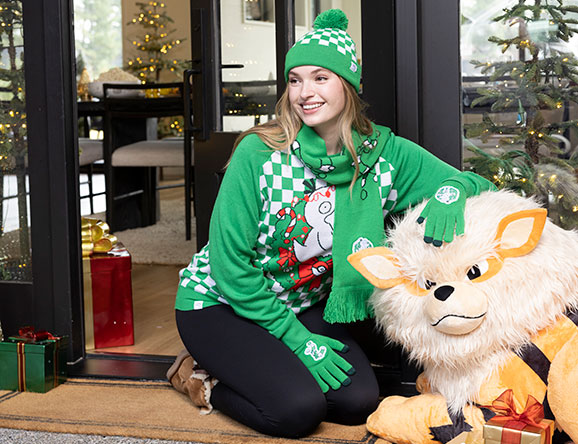 If the weather outside is frightful, Psyduck will help you keep warm and cozy. Keep your fingers toasty while building your very own Pokémon snowman with Psyduck gloves. Of course, you'll also need the matching Psyduck scarf and beanie to complete the look. Better still, pair the Psyduck knit sweater with all three accessories to create a look that will really sleigh this holiday season. And if you're looking to double the festivity, the knit sweater comes in green or red so you can get one for yourself and one for your bestie.
Doing the Holidays Write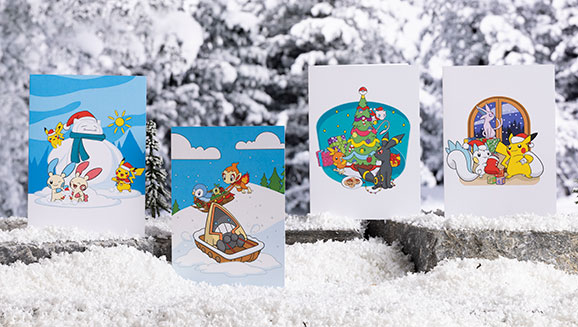 The holidays are the perfect time to reach out to friends and family. And Pokémon Center has everything you need to spread holiday cheer. It's nearly impossible not to smile at the sight of Pikachu enthusiastically building a Snorlax snowman or at Snorunt, Chimchar, and Piplup enjoying a day of sledding. With the holiday card 12-pack, you can share the magic of Pokémon enjoying their very own winter wonderland.
A Very Vibrant Pokémon Village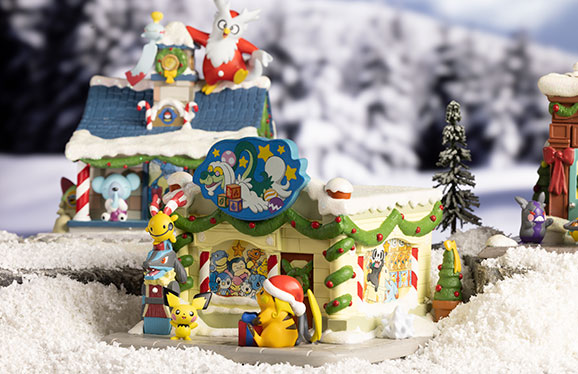 There's snow better place to spend the holidays than the Holiday Pokémon Village. Featuring four unique scenes, the village is a playful, colorful spectacle. Do some holiday shopping at the Drampa Toy Shop, savor sweet treats at the Bounsweet and Steenee Bakery, greet each new arrival at the Holiday Station Arrivals, and light up your holiday tableau with Snow Day. Whether you're giving the gift of Pokémon or making it the centerpiece of your holiday decorating, the Holiday Pokémon Village is a delightful celebration of the season.
Full Steam Ahead!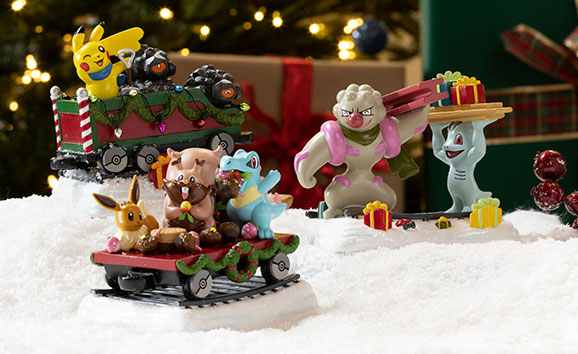 All aboard the Delibird Holiday Express, headed straight for the winter wonderland of your dreams. The Rolycoly Coal Car features Pikachu and Rolycoly cheerfully keeping the train running. But the Sweets & Treats Flatcar is the place to be as Totodile, Greedent, and Eevee dive face first into delicious holiday snacks slightly ahead of schedule. Last but certainly not least, in New Track to Holiday Fun, Gurdurr and Machop put their muscles to good use building new tracks for the Delibird Holiday Express. Who knows where those tracks will lead in future years?
Lookin' Pine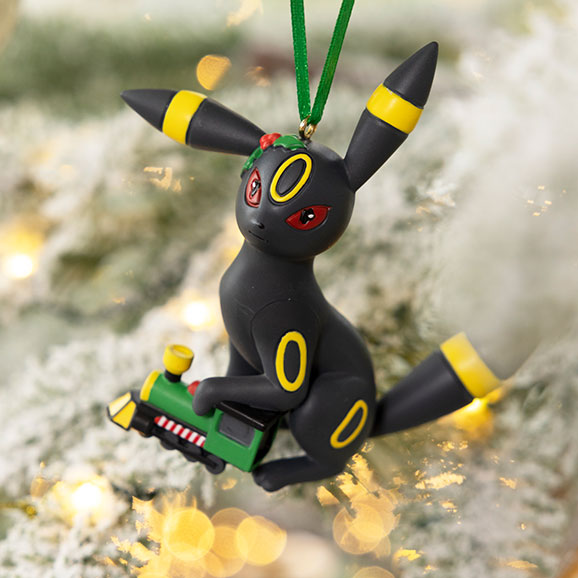 Spruce up your holiday tree with a little help from Espeon, Umbreon, and Pikachu. Together for the Holidays resin ornaments capture Pokémon enjoying the holiday season in their own unique way. Pikachu is drumming up holiday cheer with its Snorlax toy. Espeon curls up cozily with an electrifyingly cute Yamper toy. And Umbreon has received its very own toy train, which it's probably willing to share. Bring them home individually or collect them all to add a bright, festive touch to your holiday decor.
Stunning Stocking Stuffer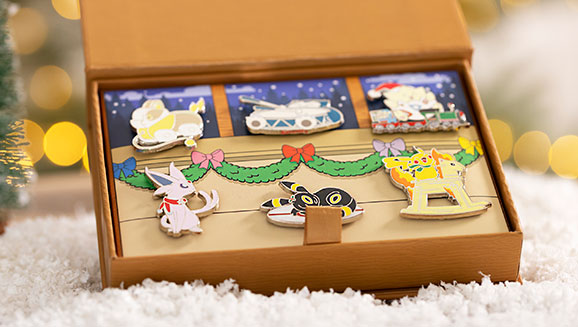 The Pokémon Center's Together for the Holidays Collectors Pin Box offers some serious gifting pinspiration. From the thoughtfully designed box to the six-pin collection depicting Yamper, Espeon, Snorlax, Pikachu, Umbreon, and Togepi enjoying a wholesome winter holiday, the Collectors Pin Box is proof that great things can come in small packages. Whether you're purchasing the pins for yourself to add some razzle-dazzle to your next holiday ensemble or as a gift for someone awesome, this pin collection is a delight.
Snow You Didn't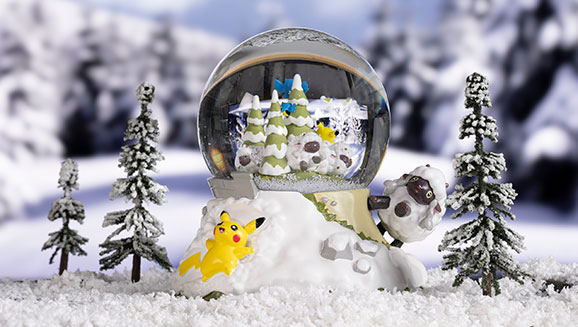 Holiday movies and songs are full of good cheer and, well, snow. But, depending on where you live, the weather doesn't always cooperate when the holidays roll around. Bring the snow to you with this snow globe that features Pikachu and Wooloo frolicking in the cold stuff. If you find yourself dreaming of a classic winter scene outside your window this holiday, just give your Pokémon snow globe a shake and let it snow!
Happy Holidays, Trainers!
Source: Pokemon.com
Pokémon Center Welcomes Holiday Season with New Festive Collection
Oct. 26, 2022 — Today, The Pokémon Company International has begun releasing an all-new, seasonal holiday collection for Pokémon Center — the premier online destination for official Pokémon merchandise in the US, Canada and UK. This winter, Trainers can deck the halls and celebrate the most wonderful time of the year with premium Pokémon products — including holiday apparel and accessories, home decor, collectible items, adorable plush and more.
Trainers will also be gifted a Pokémon Winter Wonders Flat Brass Ornament with any Pokémon Center purchase (while supplies last). The following seasonal items are now available at Pokémon Center:
All Aboard the Delibird Holiday Express: The popular Delibird Holiday Express train figures are back with even more holiday cheer — culminating with three new cars to round out the train to completion, including New Track to Holiday Fun, Sweets & Treats Flatcar and the Rolycoly Coal Car. Fans can finish this 10-piece collection with the previously released Pikachu Engine, Dragonite Flatcar, Alolan Vulpix Boxcar, Slowpoke Caboose, Ponyta Rockers Flatcar, Moomoo Milk & Cookies Tank Car and Snorlax Pass figures.
Home for the Holidays: An expansion of the Haunted Pokémon Village, these Pokémon Holiday Villages are the perfect way to experience the joy of the season at home. From taking a ride on the most festive train in town to stopping by the toy store, fans will love creating their unique village displays.
Walking in a Winter Wonderland: Stay warm and stylish while cozying up in cheerful Pokémon apparel, from comfy holiday knit sweaters featuring Pikachu and Psyduck to holiday-themed gloves, scarves and beanies.
Merry and Bright Home Decor: With two festive home decor collections, friends and families will love making their homes merry and bright this season. The Pokémon Winter Wonders collection is an elegant assortment of evergreen and trend-inspired looks perfect for interior decor, and Together for the Holidays is a bright, unique collection offering traditional holiday fun.
'Tis the Season for Luxe Kitchenware: Hosting for the holidays? Pokémon Center has great dinnerware and dining sets that are sure to be love at frost sight as families cook up the ultimate Pokémon treats and meals this season.
In addition, Trainers can snuggle up with their favorite Pokémon plush or accessorize with festive plush key chains — coming soon to Pokémon Center.
For additional information about this collection and other holiday gift ideas for all kinds of Pokémon fans, please visit PokemonCenter.com.
❄️Preparing Your Winter Wonderland❄️
It's never too early to start preparing for the merriest of seasons.
The Gift of Pokémon
Shop our holiday collection to find this year's exclusive home decorations, winter wear, and more!
Let It Snow
Wherever you live, there's a winter wonderland waiting for you with the Pokémon Center's holiday snowglobe featuring Wooloo, Pikachu, and Yamper.
Cozy & Cool
When the weather outside is frightful, stay warm with holiday sweaters that celebrate your love for Pokémon.
Alluring Accessories
Whatever the holidays have in store, you'll be ready with sweet scarves, beguiling beanies, and gorgeous gloves.
Tree-mendous Gifts
Whether you're decorating your own holiday tree, or shopping for gifts, resin ornaments featuring Eevee and Pikachu enjoying winter fun are a holiday hit.
Gift with Purchase
Starting today, enjoy this Pikachu Winter Wonders Ornament with any purchase. This gift with purchase comes with every order regardless of price, while supplies last.
Source: The Pokémon Company