The Pokémon Company International has revealed new products for the official Pokémon Center. Read on below to learn more:
Sunny Pokémon Summer Days with the Pokémon Center
Seas the day with versatile and fun Pokémon towels and sofishticated floats.
Water you doing this summer? Whether your summer fantasea includes relaxing at the beach or resting poolside, the Pokémon Center has you covered with fintastic floats and terrific towels in its Pokémon Summer Days collection. Surf the waves with your favorite Water-type Pokémon at your back with Magikarp, Mantyke, or Lapras floats. Better still, bring them all home and assemble a flotilla with friends.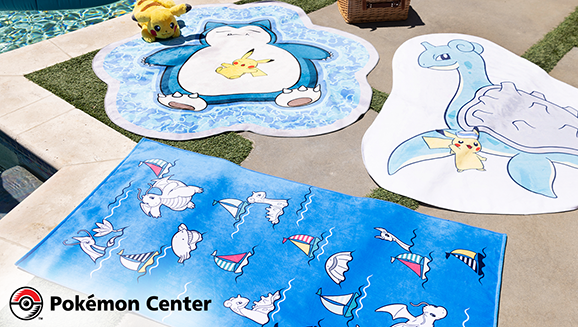 Dry off afterward with a towel shaped like Snorlax or Lapras or a rectangular towel with a friendly Dragonite. These bodacious beach towels feature a bold, graphic Pokémon on one side and solid-colored material on the other, making them aesthetically versatile and functional.
Visit the Pokémon Center to check out the Pokémon Summer Days collection, available now.
The perfect pool float doesn't exis—
– 👀!
SUMMER POKÉMON STYLE
Make a Splash
Hitch a ride with Mantyke, Magikarp, or another Pokémon for a wonderfully watery adventure.
Bask Like a Boss
Whether you're catching rays poolside or at the beach, bring your favorite Pokémon along for some rest and relaxation. With a bold graphic on one side and solid color on the other, these towels are as versatile as they are gorgeous.
Haute Hats, Tempting Tanks
Rep your favorite Pokémon while savoring the sun with cute hats, T-shirts, tank tops, and more.
Source: Pokemon.com