The largest Pokémon tournament in North America of the year took place from July 6 to July 8 in Columbus, Ohio. Pokkén Tournament DXwas a major part of the competitive events on both Saturday and Sunday. If you missed out on watching the recently-aired Grand Finals live, you can catch up by checking out the official recording here.
Pokkén Tournament Worlds Qualifier finals
Champion: ThanksAlot — Sceptile
Runner-up: InC Rokso — Garchomp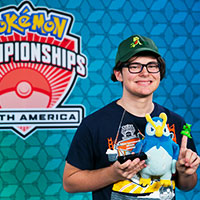 The Pokkén Tournament Grand Finals were incredibly exciting, pitting InC Rokso and his Garchomp against ThanksAlot with Sceptile. The crowd for the Grand Final was easily the loudest of the weekend, and they weren't left disappointed by the action. And it was InC Rokso that earlier put ThanksAlot in the loser's bracket, so the Grand Finals was certainly a grudge match. ThanksAlot got his revenge in a big way, finishing with two perfect games and going 6-0 in the Grand Finals to claim victory.
What an incredible run of final matches here at the North America International Championships. Congratulations to our finalists and to everyone who played hard here in Columbus.
2018 Pokémon VGC Junior, Senior and Masters Division North America International Champions announced: Justin Miranda-Radbord, Alfredo Chang-Gonzalez and Jeremy Rodrigues
2018 Pokémon TCG Junior, Senior and Masters Division North America International Champions announced: Kaya Lightleitner, Jackson Ford and Stéphane Ivanoff
Source: Pokemon.com