Niantic has put together the following guide in regard to how to participate in Pokémon GO Trainer Battles:
Trainer Battles
Please stay tuned as we gradually roll out this feature to more Trainers.
Put your skills to the test and see how they match up against other Pokémon GO players in a Trainer Battle. Trainer Battles allow you to challenge your Pokémon directly against another Trainer's Pokémon. For each battle, there are three different Leagues you can select from that determine the maximum CP of your battle party. You can challenge a nearby Trainer by scanning their Battle Code, or challenge to your Ultra Friends or Best Friends from anywhere in the world.
Not only are Trainer Battles a fun way to challenge potential competitors, you will also develop combat skills and train Pokémon along the way. Knock out all the opponent's Pokémon or deal more damage before time runs out to claim victory. Pokémon return back to their owners unharmed so you can battle as much as you like without needing to use Potions or Revives.
Note: At this time, Trainers with child accounts will not have access to this feature.
1. Starting a Battle
Starting a Battle with nearby Trainers
If your opponent is not an Ultra Friend or Best Friend, you will have to be in close proximity to start a battle using your Battle Code. To access it, open the Nearby screen in the bottom right of the screen in Map View. From the Nearby screen, tap on the Battle tab. The Battle Code appears next to your Trainer avatar. When another Trainer scans your Battle Code, you will be sent a Battle Challenge.
To send a Battle Challenge, tap on the CHALLENGE A TRAINER button to scan an opponent's Battle Code.
Note that Battle Codes are different than the QR codes used to add Friends. These Battle QR Codes are used only to initiate a Trainer Battle and a new one generates every time you sign into Pokémon GO.
Starting a battle with your friend
Alternatively, you can challenge your Ultra Friends or Best Friends without having to be in close proximity to each other.
To send a Battle Challenge:
In Map View, navigate to your Trainer Profile.
Tap the Friends tab at the top of the screen to open your Friend List.
Select a Friend that you wish to challenge.
Tap the Battle icon.
Tap on LET'S BATTLE! to send the Challenge.
If you'd like to stop receiving Battle Challenges, you can disable this by visiting the settings page and unchecking Battle Challenges from Friends.
2. Selecting a League and Battle Party
After you send a Battle Challenge, the next step is to select a League. Leagues ensure Pokémon always match up against a battle party of comparable strength by their Combat Power (CP). You can choose from three different Leagues to compete in:
Great League: The maximum CP per Pokémon you can bring cannot exceed 1,500 CP.
Ultra League: Trainers will unlock this League when they own at least 3 Pokémon whose CP values are above 1,500 CP. The maximum CP per Pokémon you can bring cannot exceed 2,500 CP.
Master League: Trainers will unlock this League when they own at least 3 Pokémon whose CP values are above 2,500 CP. This League has no maximum CP limit.
You can select three Pokémon for your battle party. Pokémon will automatically be recommended based on their Combat Power (CP) in relation to a League's criteria. Be sure to vary the Pokémon in your battle party to exploit any potential type matchups by switching between Pokémon during battle.
3. Battle Sequence
During the battle, Trainers will rely on familiar mechanics such as Fast and Charged Attacks, Pokémon type effectiveness, and switching, along with using tools like Protect Shields or charging the Pokémon's Charged Attack, to beat an opponent.
Fast Attack
Tap anywhere on the screen to perform a Fast Attack. Fast Attacks recharge your Charged Attack meter.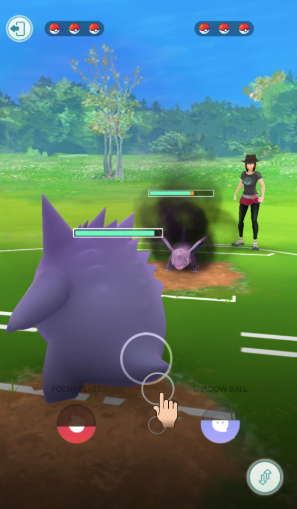 Charged Attack
Once a Charged Attack meter is full, its corresponding button will become enabled. Tap this button to activate the Charged Attack. Once your Charged Attack is initiated, tap your screen repeatedly to amplify its effect. Whenever you activate a Charged Attack, your opponent has the option to build a Protect Shield and fortify their Pokémon.
Defending
When your opponent initiates a Charged Attack, you will have the opportunity to defend using a Protect Shield. If you choose to defend during that round to soften the blow of an incoming attack, tap the screen during this sequence to fortify your Pokémon and build the shield. You will need to strategize wisely since you are given a limited number of shields per battle.
Once the Charged Attack and Defending sequences are complete, the battle continues and both Trainers can resume performing Fast Attacks. This cycle continues until time runs out or when an opponent's Pokémon has fainted from battle.
4. After the Battle
Both players will earn rewards for participating in the battle, but only the winning Trainer will get to level up one of three medals: Great League Veteran, Ultra League Veteran, or Master League Veteran. Once the battle ends, you can request a rematch or send a Friend invite to your opponent. You can battle as often as you like, but you can only receive rewards for up to three battles per day.
Source: Official Pokémon GO support