A Look at the 2019 Oceania Pokémon TCG International Championships
By Ellis Longhurst, Contributing Writer
After kicking off the season with an exciting event in Sao Paulo, Brazil, the 2019 International Championships made its way to Melbourne, Australia for the Oceania International Championships. More than 330 players competed to be crowned the third ever Pokémon TCG Masters Division Oceania International Champion, a title which included a $10,000 grand prize and 500 Championship Points—enough to automatically qualify for the 2019 Pokémon World Championships.
With the previous two Oceania International Championships having been won by European players, this year the Oceania community was particularly keen to crown a local champion. However, competition for the title was fierce. The event attracted skilled players from across the globe, including those from the North America, Europe, Latin America and Oceania rating zones who received a Travel Award to Melbourne because of their success at tournaments earlier in the season. With great talent came great strategies and a variety of interesting decks. Here is how the event unfolded.
Prepare for a Shock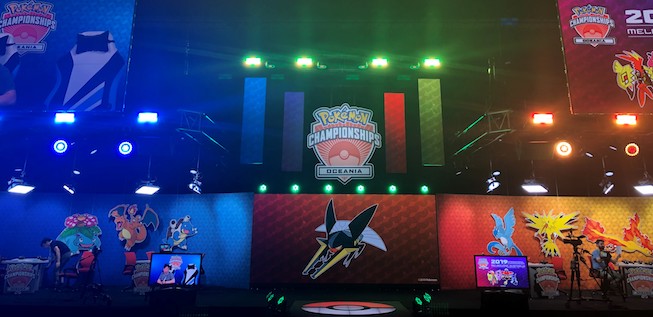 For players living outside of the Japan and Korea rating zones, the Oceania International Championships was the first opportunity to compete in a tournament using cards from the Pokémon TCG: Sun & Moon—Team Up expansion. Excitement surrounded the introduction of TAG TEAM Pokémon-GX to the game—these basic Pokémon have massive HP and potentially game-changing attacks, but give away three Prize cards when they are knocked out.
Having dominated tournaments in Japan and Korea, the new deck featuring Pikachu & Zekrom-GX, in particular, was on everyone's radar. This deck is designed to take six Prize cards quickly via Pikachu & Zekrom-GX's powerful Full Blitz and Tag Bolt-GX attacks. Using Tapu Koko Prism Star's Dance of the Ancients ability and the Thunder Mountain Prism Starstadium, players can even attack with Pikachu & Zekrom-GX's Full Blitz attack as early as their first or second turn of the game!
Players at the Oceania International Championships would need to be prepared to battle against this fast and formidable TAG TEAM Pokémon-GX.
The Upside-Down
Despite all that hype, it was another deck that saw the most action, particularly early in the competition. The most popular deck at the tournament turned out to be Ultra Necrozma-GXwith Malamar—92 players battled using this deck on Day 1. Using Malamar's Psychic Recharge ability and the new Viridian Forest stadium card, the plan is to load Energy on to Ultra Necrozma-GX and take at least one Prize card every turn. This Ultra Beast seemed like an attractive choice for the tournament because it can deal enough damage to knockout all Pokémon-GX in one hit—including Pikachu & Zekrom-GX. However, only seven Trainers battling with Ultra Necrozma-GX progressed to Day 2. And of those, Christian Hasbani of Australia placed the highest in the competition, finishing in 9th place overall.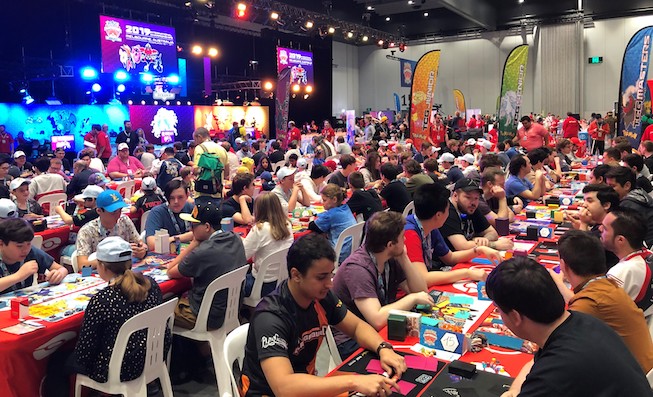 So despite it being a little less popular than expected, it was the Pikachu & Zekrom-GX deck that proved to be an excellent choice for the tournament. Of the 36 players who progressed to Day 2 of the tournament, 12 of them—a full third of the field!—were using Pikachu & Zekrom-GX. What's more, three of these players managed to secure a place in the Top 8.
There were many similarities between these three deck lists, but also some startling differences. For example, Jose Marrero chose to include Marshadow-GX as a Fighting-type attacker, while Kaiwen Cabbabe and Lucas Pereira sought to disrupt their opponents by way of Wobbuffet and Absol respectively. It will be interesting to see how the Pikachu & Zekrom-GX decks continue to evolve as the metagame develops and more combinations are explored.
The Champion
Surprisingly, it was a deck focused on a different Lightning-type Pokémon from the Sun & Moon—Team Up expansion: Zapdos. Isaiah Williams of the USA piloted the Legendary Pokémon to victory in the Masters Division final. Using Jirachi's Stellar Wish ability, Isaiah was able to consistently find the Trainer cards he needed to attack with Zapdos' Thunderous Assault each turn. The abundance of low HP Pokémon on his opponent's field and in the tournament in general meant that Zapdos was usually able to collect a Prize card every turn. Utilising Electropower and Choice Band, Isaiah was even able to use Zapdos to knockout Pokémon-GX… sometimes in one hit! Zapdos was the feature card in the decks of nine players competing on Day 2, including Daniel Altavilla of the USA and Bert Wolters of the Netherlands who both placed in the Top 8.
In the final, Isaiah faced strong competition from the 2018 North America International Champion, Stéphane Ivanoff of France. With his second place result, Stéphane proved that the well-established Zoroark-GX with Lycanroc-GX deck still has merit in the Standard format. His list even included one unconventional card, Lucario-GX, so that he could knockout Pikachu & Zekrom-GX in one hit with Aura Strike! It is no wonder he was able to rise to the top of the Day-2 competitors.
Since its release in the Pokémon TCG: Shining Legends expansion, different variations of the Zoroark-GX deck have placed in the Top 4 or higher at every International Championships. Will we begin to see a new iteration of the deck that is better equipped to take on the Zapdos with Jirachi deck? Or will Lightning-type Pokémon continue to dominate the metagame?
Youth Gone Wild
On championship Sunday, Oceania International Champions were also crowned in the Junior and Senior Divisions. The players in these divisions chose to battle with decks that were similar to those in the Masters Division. Interestingly, it was two different archetypes that reigned supreme.
In the Senior Division final, both players came to battle with decks centred around Zoroark-GX and Lycanroc-GX, but their strategies were completely different. Asger Balle of Australia designed his deck to consistently deal high amounts of damage to his opponent's Pokémon using Zoroark-GX's Riotous Beating attack and Lycanroc-GX's Claw Slash attack. His opponent, Alexandre Sole of Belgium, preferred a control variant of the deck, opting to pair Zoroark-GX with cards that discard the opponent's resources. Ultimately, it was Alexandre's expert use of cards such as Plumeria, Team Skull Grunt, and the new Lycanroc-GX from Sun & Moon—Team Up that allowed him to slow the tempo of the finals match and earn the title of Senior Division Champion.
By contrast, the Junior Division was an electro-powered match that saw Simon Belanyi of Slovakia take on Jean Cardoso of Brazil—both players were using a Pikachu & Zekrom-GXdeck. The raw power of this TAG TEAM was on display as big knockouts came fast for both Simon and Jean. In the final game, Simon's clever use of Raikou's Booming Thunder attack to chip away at his opponent's Pokémon allowed him to pull ahead and take the victory. Simon becomes the first player from Slovakia, across all age divisions, to be crowned an International Champion!
The second International Championships of the season is now over, but there's no time to rest. In just over a month, the Europe International Championships will take place in Berlin, Germany. And of course, more Regional Championships and local events are happening as well. Be sure to check back at Pokémon.com/Strategy to follow the latest Pokémon TCG new and updates!
About the Writer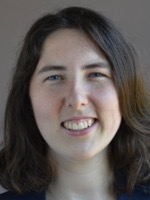 Ellis Longhurst 
Ellis Longhurst is a contributing writer covering Play! Pokémon events for Pokemon.com. She has been competing in high-level Pokémon TCG tournaments since 2006, and creating written content for the Pokémon community since 2011. Ellis now brings an Australian flavour to the Play! Pokémon broadcasting and stream teams at the International and World Championship competitions.
---
2019 Oceania Pokémon VGC International Championships Analysis
By Duy Ha, Contributing Writer
The 2019 Oceania International Championships returned to Melbourne, Australia after a one year stint in Sydney. Trainers from all around the globe, including top Trainers who earned Travel Awards for their performance at Championship Series events from July 9–November 18, 2018, competed for cash prizes and Championship Points. This International Championship marked the only International event to occur during the Moon Series of the 2019 Video Game Championship season.
Moon Series Magnates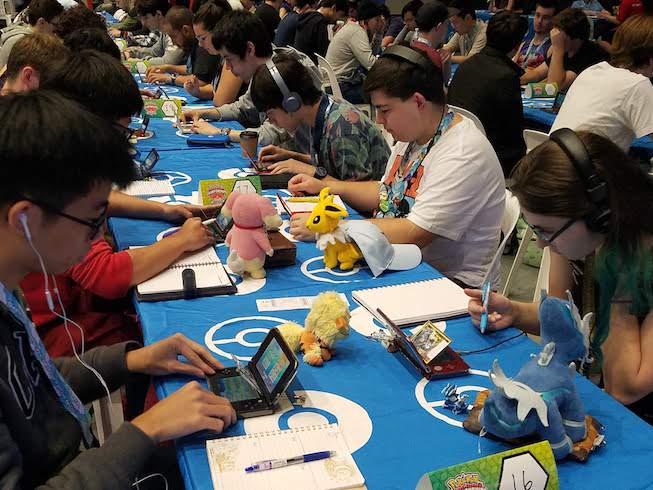 While the Moon Series shook up the format by reintroducing Z-Moves, some Pokémon remain top contenders and continue their reign of dominance from the Sun Series. Incineroar, with access to the move Fake Out and the Intimidate Ability, continues to be a staple support Pokémon of many teams. Despite Kyogre and Groudon, two of the most common Restricted Pokémon, having powerful type advantages over it, it still cycles Intimidate frequently enough to provide valuable longevity for the rest of its teammates, namely Xerneas (Restricted Pokémon are the powerful Legendary Pokémon normally prohibited from tournaments). The potent combo of Power Herb, Geomancy, and the Fairy Aura Ability can lead to games ending quickly if the opposing Trainer does not have a check to Xerneas.
Trainers competing in the 2019 Oceania International Championships saw the power of this duo, with 61% of the Trainers opting to use the Life Pokémon as one of their two Restricted Pokémon in the Masters Division. The strength of Xerneas and Incineroar showed throughout the entire tournament; all eight Trainers in the Masters Division top cut brought this duo!
Despite the dominance of this pairing, some Trainers managed to get creative while playing at the top tables, barely missing out on the top cut. Jesse Beard's Jynx showcased its niche role in one of the last rounds of Swiss: the combination of Dry Skin, an Ability that heals the Pokémon whenever it is hit with a Water-type attack, and moves like Fake Out and Icy Wind, gives Jynx a lot of support options for the rest of the team. Juan Naar had a similar thought process with his Heliolisk, also bearing the Dry Skin Ability. Juan's Heliolisk used the rarely seen Eerie Impulse to drop the opposing Pokémon's Special Attack stat by two levels, which is impactful in a format that boasts a lot of strong Special Attackers.
Perhaps the Restricted Pokémon that gained the most from a Z-Move in the Moon Series was Lunala. Many Lunala throughout the weekend used the combination of Psych Up to copy Xerneas stat changes followed by its powerful Menacing Moonraze Maelstrom Z-Move to throw out devastating amounts of damage onto opposing Pokémon.
Another Pokémon that had a strong showing in the Masters Division was Volcarona. The Sun Pokémon has the important resistance to Fairy-type attacks and provides support with moves such as Tailwind, Whirlwind, and Rage Powder. With Firium Z and an excellent Special Attack stat, Volcarona can fire off a devastating Inferno Overdrive capable of knocking out an opposing Xerneas in one hit, even without intense sunlight! Justin Burns and James Katsaros used Volcarona and ran hot, both finishing as semifinalists.
Junior Division Phenom Becomes First to Win Each Different International Championships
Justin Miranda-Radbord of Canada is no stranger to winning. His accomplishment list has even the casters in disbelief at times, and this weekend was a big win. He has won the European International Championships, North American International Championships, and Latin American International Championships in the past, but was missing an Oceania International Championship.
He had some tough competition—his opponent, James Gilbert of Australia, was piloting a team that his older brothers in the upper divisions had used to great success. Justin lost the first game of the finals after being put into a position where his Kyogre could not take out the remainder of James's Pokémon, but he kept his cool and never allowed that situation to happen again. He protected his Xerneas well and put on the pressure to secure his Championship win. He has over 2000 Championship Points, so it's certain that he will be a contender for a deep run at the World Championships!
A Lunala Eclipse in the Senior Division!
The Senior Division final was also a thrilling match, showcasing Juan Salerno from Argentina and his Lunala/Xerneas duo vs. the Groudon/Xerneas duo from Luca Paz of the United States. Luca's team, utilizing a faster Xerneas, picked up a key Special Attack drop against Juan's Lunala after it had copied a Xerneas' Geomancy boosts, allowing Luca's Xerneas to survive an attack and seal a game one victory. Luca continued to apply pressure in the second game, and it quickly came down to Juan's final two Pokémon, Lunala and Xerneas, both heavily damaged. Fearing the opposing boosted Xerneas, Luca made a defensive play that created an opening for Juan's Lunala to use Psych Up on his own Xerneas. The combination of a boosted Lunala and a boosted Xerneas saved Juan's tournament life and forced a decisive game three.
There, Juan's hyper offensive Xerneas supported by an Amoonguss using Spore blew the game wide open and left Luca with no choice but to forfeit after key Pokémon on Luca's side were knocked out so quickly. This is a big win for Juan, who had finally won his first International Championship after making it to the top cut several times before.
The Most Thrilling Slugfest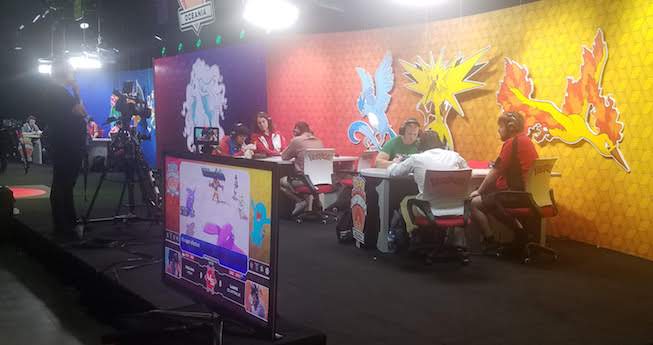 Rounding out Championship Sunday, the Masters Division final featured two Finalists who were no stranger to the International Stage. Eduardo Cunha, from Portugal, was a semifinalist at the 2016 World Championships and has since finished in the Top 16 of multiple International Championships, never quite making it to the top cut. Luke Curtale, from Australia, had reached top cut in his home International Championships three years running, and this year capped his deepest run. Eduardo finished undefeated in Swiss, while Luke had a tougher path to the finals. Luke had lost his round one match on stream, meaning he had to go undefeated the rest of the tournament to guarantee his spot in the top cut. Sure enough, Luke did, including a thrilling set on stream in the last round of Swiss to guarantee his position.
Both Trainers had the same six Pokémon, but each team had slight differences in their makeup. Game one was a back-and-forth battle with both Trainers trying to find a board state that suited them, ultimately leading to opposing Stakataka facing off with one another after receiving Beast Boosts to bolster their Defense stats. Luke's Stakataka, however, was more damaged than Eduardo's going into this matchup, and fainted after burning up more than half of the 50 minutes allotted per round.
Game two opened with Luke getting a big knockout on Eduardo's Lunala with a Menacing Moonraze Maelstrom from his own Lunala, after Eduardo had incorrectly predicted that Luke would not open with such a gambit. Luke's play in game two did not allow Eduardo to recoup after the opening turn, forcing a game three with the round timer running low enough that both Trainers knew game three would likely end on timer.
Both Trainers played cautiously in the final round, with each playing for board position that would not allow either competitor to get ahead on Pokémon. Luke seemed to gain the stronger position when he picked up the first KO on Eduardo's Smeargle as time expired. With the clock expired, three more turns were to be played, and then judges would assess who had the advantage after the final turn. Eduardo was not out just yet: A defensive play by Luke to maintain his Pokémon advantage opened up an opportunity for Eduardo to knockout Luke's Smeargle, as well his incoming Lunala in the first extra turn! Luke, realizing that he was not in position to take any more knockouts in the next two turns, admitted defeat and extended his hand for the final handshake.
After a grind-out first game that saw two Stakataka facing off against each other head-to-head, the audience did not expect such a thrilling finish to what may have been one of the most exciting Masters Finals matches in VGC history!
Congratulations to all Trainers who competed in the 2019 Oceania International Championships! The upcoming European International Championships will use the Ultra Series ruleset, so it's going to be a whole different game at the next International Championship. Until then, use the event locator to find events in your local area to start your journey to the 2019 Pokémon World Championships!
About the Writer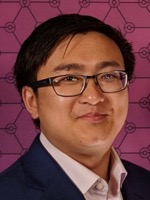 Duy Ha 
Duy Ha is a contributing writer covering Play! Pokémon events for Pokemon.com. He competed in VGC events starting in 2010 and joined the Play! Pokémon broadcast team in 2014, covering Internationals and Worlds level competitions.
---
A Look at the 2019 Oceania Pokémon VGC International Championships
By Gabby Snyder, Contributing Writer
This past weekend Pokémon Trainers from around the world were present in Melbourne, Australia for the 2019 Pokémon Oceania International Championships. Over 100 Trainers from the Masters Division alone competed for the title of the 2019 Oceania International Champion, as well as Championship Points toward a spot to play in the World Championships coming up in Washington D.C. later this year. Wanting to join in on the fun? Here's a look at the common strategies that have emerged as a result of this past weekend's competition.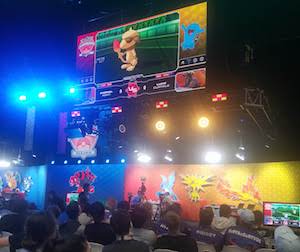 The 2019 VGC Season allows Trainers to include two Restricted Pokémon on their team, which forces them to consider which Pokémon best fit their playstyle and have good synergy together (Restricted Pokémon are the powerful Legendary Pokémon normally prohibited from tournaments). In the Sun Format, many competitors relied on Pokémon like Kyogre or Groudon due to their ability to summon the Rain or the Sun when sent into battle. At the Latin American International Championships back in November, six of the eight teams that placed within the Top 8 featured a Kyogre or a Groudon. In Melbourne, these Pokémon maintained their popularity with inclusions on three quarters of the competing teams, though they were only found on four of the Top 8. They were most often paired with Xerneas; Lunala and Yveltal were also common picks.
While only 7% of the field brought the combination of Xerneas and Lunala, both finalists in the Masters Division, the Junior Division Runner Up, and the Senior Division Champion featured these two powerful Pokémon on their teams. This combination was first made popular by Ashton Cox and Jeremy Rodrigues at the Memphis Regional Championships in October, as well as the Latin American International Championships in November, both of which were held using the Sun Format.
Psyching Up the Competition
The VGC 2019 Format saw the return of Xerneas into the playing pool. The powerful Legendary Pokémon originally from the Kalos Region was one of the most commonly found Pokémon in the VGC 2016 format when Restricted Pokémon were last permitted. Xerneas first rose to popularity due to its signature move Geomancy, which boosts its Special Attack, Special Defense, and Speed by two stages. Normally it takes one turn for this move to charge, but when Xerneas is holding the item Power Herb, the move is activated instantly—which immediately turns Xerneas into the centerpiece of any team.
What is different about Xerneas teams in the 2019 Format is the use of Psych Up, a move that copies the stat changes of a target Pokémon onto its user. It is not stopped by moves like Protect, Detect, or Spiky Shield either; only a move like Crafty Shield that blocks status moves can stop it. By bringing a Pokémon that knows Psych Up into battle, you have the option of copying Geomancy boosts from one of your own Pokémon or your opponent's. This means any opponent will have to think twice before using Geomancy, in case its power gets used against him or her.
Lunala was the Psych Up user of choice for Masters Division Champion Eduardo Cunha and Finalist Luke Curtale, who both brought the Moone Pokémon into battle with them this weekend. Lunala's signature Shadow Shield Ability reduces all damage taken by half when it is at full HP, allowing it to take a hit from a Geomancy-boosted Xerneas without worrying about getting knocked out. While this exact strategy didn't play out in the Masters Division Finals, Lunala and Xerneas boosted together is certainly a strategy to watch out for moving forward!
Another Psych Up user that fans got to watch on the livestream was Masters Quarterfinalist James Baek and his Kyogre. By having a Pokémon hold the Normalium Z Z-Crystal and using Z-Psych Up, a Pokémon can heal all of its health before copying stat changes, which can be a game-changer if used with the correct timing.
Sketchy Strategy
In 2016, Xerneas was most commonly found with its partner Smeargle, which would use the moves like Follow Me or Wide Guard to give Xerneas the opportunity to use Geomancy safely. This strategy has largely remained intact in the 2019 Season, with both Masters Division finalists bringing Smeargle with them into the tournament.
Smeargle's usefulness comes from its signature move Sketch, which allows it to learn any move used against it in battle. This lets Smeargle access powerful moves that few other Pokémon can learn. Its Hidden Ability Moody raises a random stat by two stages while lowering a random stat one stage, potentially allowing Smeargle to move quicker or further disrupt its opponent's strategies with enhanced accuracy or evasion.
It was fitting most of the Smeargle used Lovely Kiss with Valentine's Day happening the day before the event started, and Trainers continued to embrace the attack through the Masters Division Finals. This Normal type signature move of the Pokémon Jynx has a 75% chance to put its target to sleep. In the Sun Format, Smeargle would typically use Spore to try and lure its opponents to sleep; however, with the rise in use of Pokémon that are immune to powder moves, such as the Grass-type Amoonguss and Pokémon holding the item Safety Goggles, Lovely Kiss' lower accuracy and guaranteed effectiveness is preferred. Other moves commonly taught to Smeargle at the Oceania International Championships included Fake Out, Follow Me, Wide Guard, and Crafty Shield.
Crafty Shield is especially worth mentioning because of its ability to block all status moves targeting down Smeargle's side of the field. Not only did this let Smeargle shield its partner from opposing Lovely Kiss attacks, but it also was used to stop moves like Spore, Taunt, or Psych Up from taking effect during battle.
Intimidating Incineroar
Incineroar continued its prominence in the Video Game Championship Series. It was the most popular Pokémon at the Oceania International Championships, earning a spot on 100% of the Masters Top Cut teams and on 82% of the teams in the Day 1 field. Incineroar's Fire- and Dark-typing, alongside its natural bulk, lend nicely to a more defensive role on a given team. It also has the Intimidate Hidden Ability, which lowers the Attack stat of each opposing Pokémon on the field by one stage. It's most commonly taught the moves Fake Out and U-Turn, which allow it to switch out of battle with ease and flinch opponents the turn after it returns, making optimal use of its Hidden Ability.
Incineroar can also take advantage of being a Dark-type Pokémon to hit Pokémon like Lunala for super-effective damage. During the Latin American International Championships, it most commonly did so using Knock Off, a move that knocks off the target's held item and deals extra damage if it does. The Oceania International Championships were the first International Championships to feature Z-Crystals, which cannot be removed by Knock Off. Because of that, many Trainers taught their Incineroar Snarl instead of Knock Off, preferring to lower the Special Attack of both opposing Pokémon rather than trying to remove a single Pokémon's item. Either way, Incineroar has proven its worth in VGC 2019 and will continue to be a common sight on teams moving forward.
Other Interesting Finds
One of the best things about competing in the VGC 2019 format is that there are so many Pokémon that can have an impact on the outcome of battles, even with the presence of Pokémon like Incineroar and Xerneas on a majority of people's teams. For instance, Tsareena has been growing in popularity due to its Queenly Majesty Ability, which protects its team from moves with increased priority. Tsareena used Helping Hand to great effect multiple times on stream, enhancing a Pokémon like Groudon or Xerneas's already powerful attacks. Even more surprising Pokémon like Heliolisk, Alolan Raichu, Aerodactyl, and Jynx had their opportunity to shine during featured battles streamed during the first day of the event.
The strategies used during the Moon Format are still evolving, and it'll be exciting to see which Pokémon show up in April at the Europe International Championships, at upcoming Regional Championships, and smaller local tournaments.
About the Writer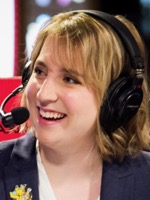 Gabby Snyder 
Gabby Snyder is a contributing writer covering Play! Pokémon events for Pokemon.com. She competed in high level Play! Pokémon tournaments from 2009–2016, qualifying for the World Championships in 2015. She is now a part of the broadcasting team for Internationals and Worlds competitions, and regularly streams Play! Pokémon content online under the tag SimplyGabby. She can be found online at GabbySnyder.
---
2019 Oceania Pokémon TCG International Championships Analysis
By Cora Georgiou, Contributing Writer
The third annual Oceania International Championshipstook place in sunny Melbourne, Australia this past weekend, drawing fierce competitors from across the globe for the second International event of the 2019 season. With over 650 players competing for their share of $50,000 among the Pokémon TCG, VGC, and Pokkén Tournament DXtournaments, all eyes were on the local competitors from the Oceania rating zone to see if they could keep up with the best of the best from North America, Europe and Latin America. Read on to find out which players and decks came out on top in the beautiful Down Under.
A Shocking Debut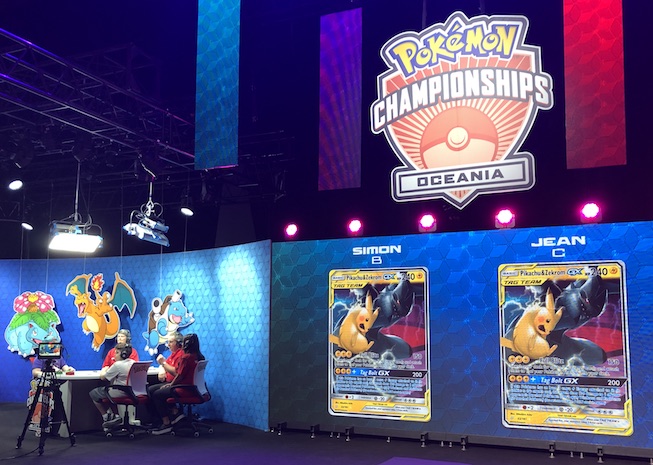 With only a few weeks to practice with the new Pokémon TCG: Sun & Moon—Team Up expansion, there were plenty of questions surrounding how the tournament meta would look. Would it be similar to the recent 2019 Latin American International Championships, or would the brand new TAG TEAM Pokémon-GX make a (Towering) Splash? Zoroark-GXwon both the 2018 North America International Championships and 2019 Latin America International Championships, but Blacephalon-GXand Rayquaza-GX have also recently been powerful fan favorites. While Zoroark-GX saw some play and even managed to take the 2nd place spot at the Oceania International Championships, the real winners of the Masters Division were the brand-new Lightning-type decks featuring Pikachu & Zekrom-GX and Zapdos.
A staggering 21 of the 36 players that qualified for Day 2 in the Masters Division played either Pikachu & Zekrom-GX or a Zapdos deck featuring Jirachi. The Zapdos variant has been popular in Japan for the last few months, but Trainers brought some different versions to Australian soil. With the help of Jirachi's Stellar Wish ability to search for Trainer cards like Switch and Guzma, Zapdos can move in and out of the active spot while dealing big damage with the Thunderous Assault Attack. Though it's often been paired with Jolteon-GX, 2018 Masters Division World Champion Robin Shulz nearly made Top 8 with his version of a Zapdos deck featuring tech cards like Absol and Buzzwole to counter opposing Lightning decks. Jolteon-GX is still a solid choice, but it wasn't necessary for any of the Day-2 players in Australia.
While Zapdos requires a bit of finesse to deal damage, Pikachu & Zekrom-GX is more straightforward and proved to be almost as effective. The goal of this deck, as Junior Division finalist Jean Cardoso said, is to "put energy on Pikachu & Zekrom-GX as fast as possible." Full Blitz can Knock Out powerful Pokémon while also pulling Lightning energy from the deck to charge up the new Tag Bolt-GX Attack. 2017 World Championship Quarterfinalist Sam Chen and 2018 North America International Championship Quarterfinalist Fabien Pujol both piloted the same Pikachu & Zekrom-GX list to impressive Top-16 and Top-32 finishes, respectively. Although there wasn't a Pikachu & Zekrom-GX deck in Masters finals, it was still very successful over the weekend.
Will it be a European Three-peat?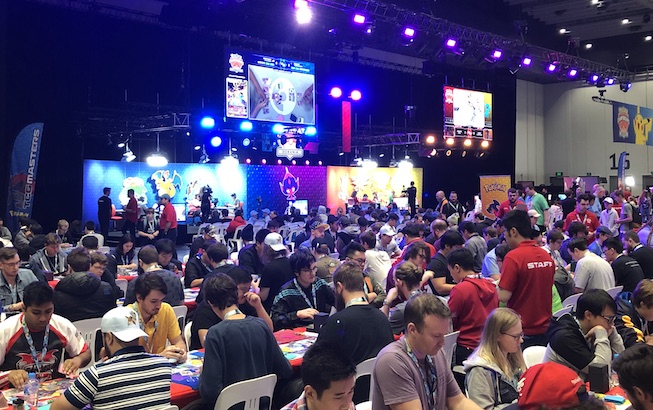 Both of the previous Masters Division Oceania International Champions, Pedro Eugenio Torres and Tord Reklev, hail from the European region. Oceania natives were thrilled to see both Kaiwen Cabbabe and Henry Brand qualify for the Top 8, but ultimately the finals came down to 2018 North American International Champion Stéphane Ivanoff from France, and Isaiah Williams of the United States. Stéphane was one of the few Trainers playing a Zoroark-GX and Lycanroc-GXdeck.
Although Zoroark-GX has been one of the best performing cards in the last year, very few players chose to stick by the Illusion Fox Pokémon in this new meta. Being loyal worked well for Stéphane however, as Lycanroc-GX had a type advantage against all of the Pikachu & Zekrom-GX decks that he faced on Days 1 and 2. Isaiah Williams, however, was playing Zapdos, which does not have a Fighting-type weakness. In a close finals match, Isaiah emerged victorious and earned his first Championship title at an International event, and also the first Oceania International Championship title for North America.
Future Pokémon Masters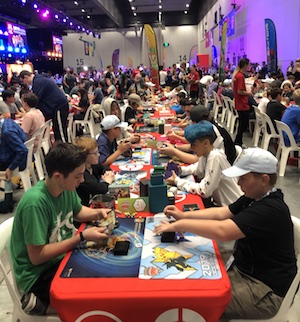 The Junior and Senior Division Trainers got their chance to shine on the final day of the Oceania International Championships, and did so with decks that largely mirrored the Masters Division. Simon Belanyi of Slovakia won a Pikachu & Zekrom-GX mirror match in the Junior Division for the title of Junior Champion. Both he and opponent Jean Cardoso of Brazil had better luck with the new TAG TEAM Pokémon than their fellow Trainers in the Masters Division. In the Senior Division we saw Alexandre Sole of Belgium playing a similar Zoroark-GX control deck that we saw him use to finish Top 8 at the Latin America International Championships earlier this year. Nonetheless, he played perfectly and emerged the Champion in a close series against Australia native Asger Balle's Zoroark-GX and Lycanroc-GX deck that was similar to Stéphane Ivanoff's. Overall, Lightning-type decks were not as prevalent in the younger age divisions, but time will tell if that remains the status quo.
With the Collinsville, Illinois Regional Championships coming up from February 22–24, we're bound to see exciting new decks taking center stage! Will other TAG TEAM Pokémon-GX be used to counter Pikachu & Zekrom-GX, or will fan favorites like Zoroark-GX and Lycanroc-GX come back into favor?
There are so many new decks to explore from the Sun & Moon—Team Up expansion, and Trainers are already hard at work figuring out what will earn them the precious Championship Points they need to qualify for the 2019 World Championships in Washington DC. Be sure to visit Pokemon.com/Strategy for all of your Pokémon TCG news and updates!
About the Writer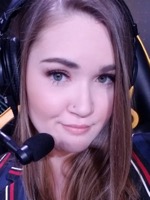 Cora Georgiou 
Cora Georgiou is a contributing writer covering Play! Pokémon TCG events for Pokemon.com. After obtaining her degree in broadcast communication, Cora has gone on to build a career in gaming commentary. You can find her on the desk as part of the broadcasting team for Play! Pokémon Internationals and Worlds events, as well as online at Songbird_HS.
Source: Pokemon.com