A collaboration has been finalized between Pokémon GO and the Pokémon Trading Card Game. Read on below to learn more:
Professor Willow & Pokémon Trading Card Game Collaboration
As part of a collaboration with the Pokémon Company, Trainers may be able to obtain a special Professor's Research: Prof. Willow Card! This card contains a single-use Offer Code that can be redeemed to claim exclusive Special Research.
For more information about the Pokémon Trading Card Game, please visit the official Pokémon site.
Locating the offer code
Once you have obtained the Professor's Research: Prof. Willow Card, you can find the offer code at the bottom of the card.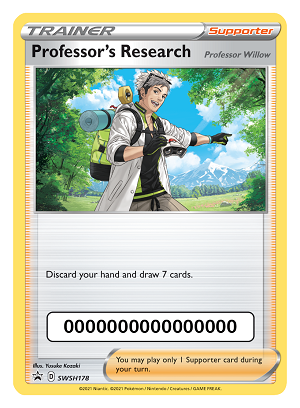 The offer code can be redeemed between July 1, 2021 at 12:00am UTC – August 1, 2023 at 12:00am UTC to receive the Special Research. Remember that there is no deadline to complete Special Research once it has been claimed.
To redeem an offer code on the web:
Visit this website.
Log in using the same credentials you use to access your Pokémon GO account.
Enter your offer code.
After successfully redeeming an offer code, you will receive a confirmation message.
To redeem an offer code on the web with Pokémon Trainer Club (PTC) accounts:
Offer code redemption on the web is currently unavailable for iOS users with PTC accounts. Users with an Android device can redeem the offer code in-app via the Shop.
If you are an iOS user and log in using PTC, you can link another login provider to your account and login via that account to redeem your offer code. Please note that if you cannot link an alternate account, you will not be able to redeem the offer code.
To redeem an offer code in-app (Android only):
In the Map View, tap the Main Menu button.
Tap the Shop button.
At the bottom of the screen, enter the offer code in the text field.
Tap Redeem.
Note: In-app offer code redemption is currently only available on Android devices. If you use an iOS device, please use the website linked above to redeem your offer code.
Note about kids' accounts:
Offer codes are not currently available for iOS users with a Pokémon Trainer's Club (PTC) child account.
If you are using an Android device and have a Pokémon Trainer's Club (PTC) child account, you can redeem the offer code in the in-game store.
By default, Niantic Kids accounts cannot interact with sponsored content, including redeeming sponsored offers. Your parent must grant your account "Sponsored Content" permissions to redeem sponsored offers. Learn how to enable parental permission for sponsored content.
Important notes about offer codes:
The method of entering the offer code will differ depending on your device and Pokémon GO login method.
Each offer code can only be redeemed once. Once a code is redeemed, it cannot be reused.
Each account can only receive this Special Research once. You cannot receive more than one Special Research even if you enter more than one offer code.
If the offer code has expired, you will not be able to receive Special Research.
Source: Official Pokémon GO support page
Bonus Pokémon TCG Card with Pokémon GO Special Research at the Pokémon Center
The Professor's Research card featuring Professor Willow comes as a gift with purchases and includes a code for Special Research.
The only thing better than a bonus Pokémon TCG card is a card that includes access to Special Research in Pokémon GO! Trainers who purchase Pokémon GO products at the Pokémon Center—including the Pokémon GO Fest 2021 T-shirt—will receive a special Professor's Research card with each product purchased.
This card features the esteemed Professor Willow and includes a code that can be used at Niantic's Offer Redemption website to access Special Research beginning in July. The card is available through the Pokémon Center only while supplies last, so don't let other Trainers beat you to the punch!
The Pokémon Center won't be the only place to add this special card to your Pokémon TCG collection. Starting soon, Trainers who complete research in Pokémon GO and tasks at Pokémon League events will also receive Professor Willow's card while supplies last. Keep an eye out for future announcements about Professor Willow's card giveaway. Pokémon League events are still paused, so check back for more information about when they will resume.
Source: Pokemon.com
Professor Willow's Pokémon TCG Debut!
Trainers,
This July, a card featuring Professor Willow will debut as part of a collaboration between Pokémon GO and the Pokémon Trading Card Game. The new artwork created exclusively for this card has now been released, so now's your chance to check it out!
Professor Willow appears on the card Professor's Research, a current must-have for any deck when battling in the Pokémon Trading Card Game. Its powerful effect can instantly give you an advantage during a match.
This card will also have a special promotional code that isn't printed on regular Pokémon TCG cards. Using this code will allow you to partake in Special Research in Pokémon GO, where you'll able to encounter the Mythical Pokémon Meltan and earn items that can be useful on your journey!
The Professor Willow card will be made available in regions where the Pokémon TCG is sold. For more details, please check the official Pokémon TCG website.
Please note that this information is subject to change, and other ways of obtaining the card may be added at a future date.
Please be aware of your surroundings and follow guidelines from local health authorities when playing Pokémon GO. Upcoming events are subject to change. Be sure to follow us on social media, opt in to receiving push notifications, and subscribe to our emails to stay updated. For the latest on in-game events and feature updates, be sure to check this help center article.
—The Pokémon GO team
Source: Official Pokémon GO blog